If the prospect of planning a shipping strategy for your new retail marketplace makes you nervous then you need this guide. It covers all aspects of the marketplace shipping landscape:
Consumer expectations
Shipping elements
Delivery options
Shipping & fulfillment costs
Delivery rates
Shipping integrations
How to design & test shipping strategy
UX design tips
What do consumers expect of shipping?
History shows that shipping can build an empire. Ancient Phoenician traders, Silk Road merchants, and British mercantile navies, all relied on their superior ability to transfer goods from sellers to buyers. That same principle applies to the modern online marketplace; the more efficient your shipping strategy, the better your retail marketplace will perform.
Consumer feedback offers emphatic support for the above. Research has shown that shipping-related issues (high delivery costs, surprise fees, slow delivery speed, cumbersome return policies) constitute the main reasons for shopping cart abandonment.
Free and fast shipping remain the leading drivers of repeat sales. It all boils down to expedited convenience. Why would I wait one week for a delivery if I can purchase the same item for roughly the same price on the high street today?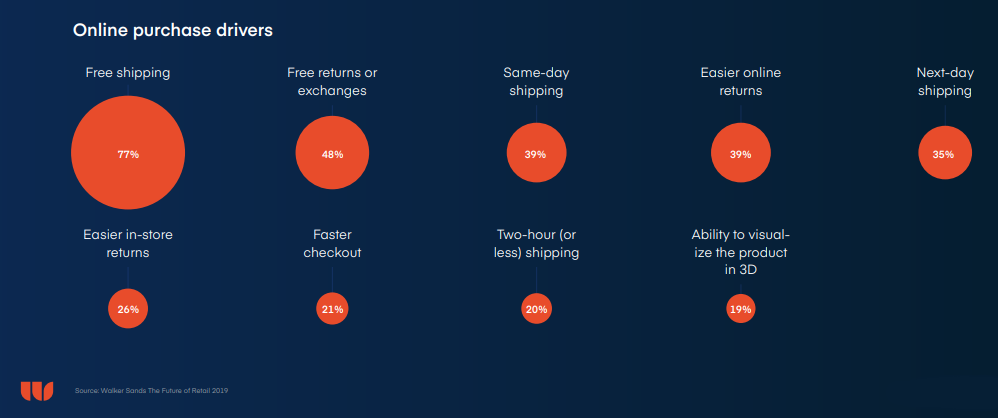 And consumer expectations keep on rising. While 35% of consumers are happy with next-day deliveries, 39% would prefer same-day deliveries, and a demanding 20% can't wait for sub two-hour deliveries. 
The moral of the story? Most customers will drop your marketplace if you or your sellers don't offer convenient delivery options. 
The shipping conundrum can be a tough nut to crack for many sellers. The faster and cheaper consumers demand their deliveries, the more expensive it becomes for go-it-alone e-commerce sellers. Shopify estimated that sellers sacrifice at least a third of their profit to shipping and fulfillment costs. If they pass the cost onto the consumer they often suffer a drop in conversions.
This challenging scenario creates an opportunity for your marketplace to add extra value and attract more sellers. To take advantage of that opportunity you need to figure out how to keep both sides of the shipping equation happy.
Don't balk at the challenge though, we got you. This overview of the marketplace shipping landscape will show you how to turn shipping into a competitive advantage. First, let's have a look at all the moving parts.
Marketplace shipping elements
Individual marketplaces take care of different shipping aspects, depending on their level of maturity, the type of products they sell, the needs of their users, and the geographic areas they are targeting. As always, it is a good idea to use an MVP to test your shipping assumptions. We'll explain how to do that further on in this post.
The following elements either form part of the shipping process or are closely linked to it.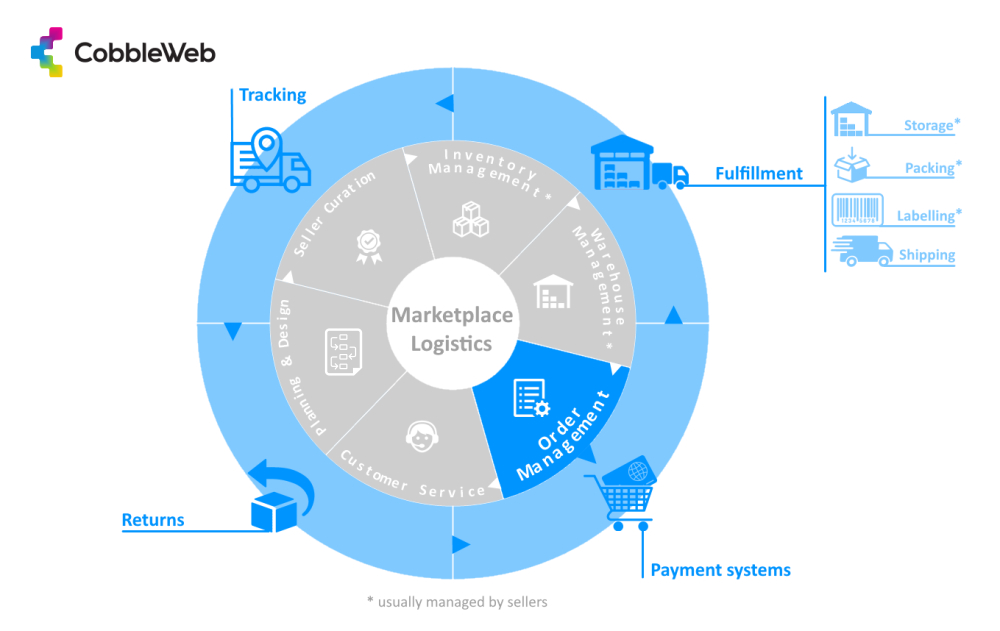 Logistics
Top level discipline that covers order management, seller curation, warehousing and customer service. Third-party logistics (3PL) companies and some marketplaces look after seller logistics as part of a full-stack shipping service.
Order management
Processing, fulfilling and tracking orders, usually with the help of CRM software like Salesforce or Hubspot.
Payment systems
These need to be integrated with your order and shipping frameworks. That means choosing a suitable payment gateway such as Stripe that can be customized for your marketplace needs.
Fulfillment
The packaging, labelling and shipping of items after receiving orders. Short-term storage and inventory management are subsets of the fulfillment process.
Physical shipping
The transport of goods from the seller or a fulfillment centre to the customer. This stage offers an opportunity for early-stage marketplaces to create a competitive advantage by adding extra value for users without incurring huge infrastructure costs.
Carriers & couriers
Choosing the right carrier can have a huge impact on cost, delivery speed and reach. International operators like UPS, DHL and FedEx offer multiple options that can be linked to your marketplace API. Smaller operators take care of last-mile delivery.
Tracking
Tracking that can be accessed via a marketplace platform is key to a seamless user experience. Sellers should be able to update the delivery status from not shipped to shipped, in transit, or unable to deliver.
Returns
A smooth returns process promotes loyal customers. Return policies have become more important as millennials embrace experiences over possessions, with many turning to rentals and 'try-and-buy' services.
Customer service
Your team should be able to provide support at every stage of the shipping process. Resolving shipping queries and complaints in a satisfactory manner is a proven way to gain repeat customers.
Warehousing
The storage of products for an extended period of time. Usually in the realm of large established sellers and marketplace behemoths like Amazon.
Marketplace delivery and collection options
Delivery and collection options should form part of the assumptions that you test with an MVP. Here's a rundown of the most common ones.
Same-day delivery (how many of your customers will pay extra for this?)
Overnight shipping
Two-day shipping
Standard vs Expedited vs Express shipping (e.g. five working days vs two days vs overnight)
In-store collection
Third-party location (e.g. post office)
Freight shipping (best for bulk cargo)
International shipping 
Cross-border transactions can help you expand your marketplace footprint and create a value proposition for sellers to join. International shipping can be pretty challenging though, especially since much of the process occurs off platform.
There's the complexity of dealing with taxes, tariffs, custom duties, and import regulations for restricted and prohibited items, which vary from country to country. These can cause extended delivery times and unexpected costs. Third-party cross-border service providers such as Pitney Bowes can help, but it's probably a good idea to start local and learn about your market and users first.
Marketplace shipping and fulfillment costs 
These are the costs that your marketplace or sellers incur to get goods to buyers. It is important to take them into account for pricing purposes, especially since they can be up to 70% of order value. 
Variables that affect shipping cost include dimensions, weight, destination, carrier, and value. Shipping zones in countries like the USA can add another cost variable.
Broadly speaking, there are four common types of fulfillment costs. 
Handling fees cover the retrieving, packing, and loading of items. Packaging plays a role in UX and branding. Research shows that 55% of consumers are more likely to purchase from a platform that is committed to sustainability. Labelling is required for the return and destination address, package weight, shipping class, and tracking number. Insurance provides protection against losses due to lost or stolen goods and product damage.
Although volume discounts can reduce costs, some sellers may initially be bigger than your marketplace with access to larger discounts. This would be one scenario where you should allow some or all of your sellers to handle their own shipping.
Warehouse management systems (WMS) and third-party logistics (3PL) companies offer advanced ways to streamline shipping and thus reduce costs. 3PLs can also help you scale and offer shorter delivery times via their networks of fulfillment centres. 
Marketplace delivery rates
Customers (buyers) are responsible for shipping fees which include carrier rates, import duties and taxes such as VAT. These fees can be charged in different ways:
Flat rates are good for uniform products and easy to administrate, but are not suitable for international shipping and diverse product lines.
Real-time carrier rates are charged at cost by pulling the rate from the carrier's API based on distance, dimensions and delivery preference.
Free shipping has become very prevalent and popular, but of course free is never really free.  'Free' shipping can be recouped by including the costs in the product price, by way of a minimum spend threshold, or a loyalty program like Amazon Prime.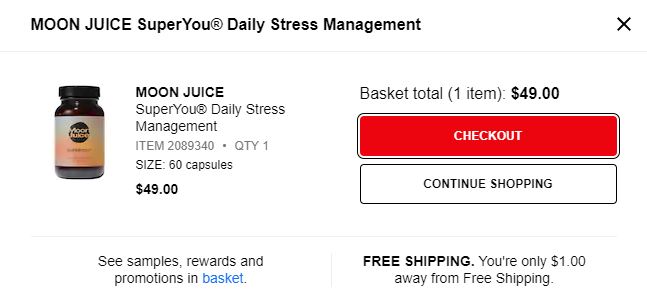 A word of warning on free shipping. Don't offer it if you can't afford it; the low margins will kill you. On the other hand, keep an eye on your competitors. If they offer free shipping, you will have to follow suit. Also, don't use it as a promotional tool because you will lose repeat customers when you revert back to paid shipping. A more cost-effective option may be to offer free returns instead of free shipping.
Marketplace shipping integrations
There's more than one way to connect your retail marketplace to a shipping solution. Which option you choose depends on the assumptions you would like to test for your particular marketplace concept. 
Decentralised shipping options are run by third-party platforms. They include 3PLs that run multiple warehouses which brings your marketplace inventory closer to consumers. The downside is that they often involve complex pricing structures, contract lock-ins, higher inventory costs to cater for multiple warehouses, incompatible technology, and performance issues.
Shopify launched their Fulfillment Network in 2019 to solve some of those challenges. Their geographically dispersed fillment centres supposedly use machine learning to forecast demand, allocate inventory and route orders. They've also simplified their fee structure to be more transparent. In short, users pay transactional fees (e.g.shipping) per unit and recurring fees (e.g. storage) by the hour. There are two red flags with this option: it's effectiveness is still largely unproven and more importantly, it locks you into the Shopify ecosystem. 
Shipping APIs connect customers and carriers by sharing data between external servers and your marketplace. Common shipping APIs like address validation, multi-carrier support, and shipment tracking offer several advantages to both your marketplace and buyers.
Marketplaces can save money through error prevention, expand their reach with more carrier options (e.g. FedEx for next day deliveries and UPS for global reach), and reduce time wastage from 'where's my order' enquiries. For buyers, tracking ensures peace of mind (easy-to-access shipping status), address validation prevents returned orders, and multi-carrier support offers better delivery options.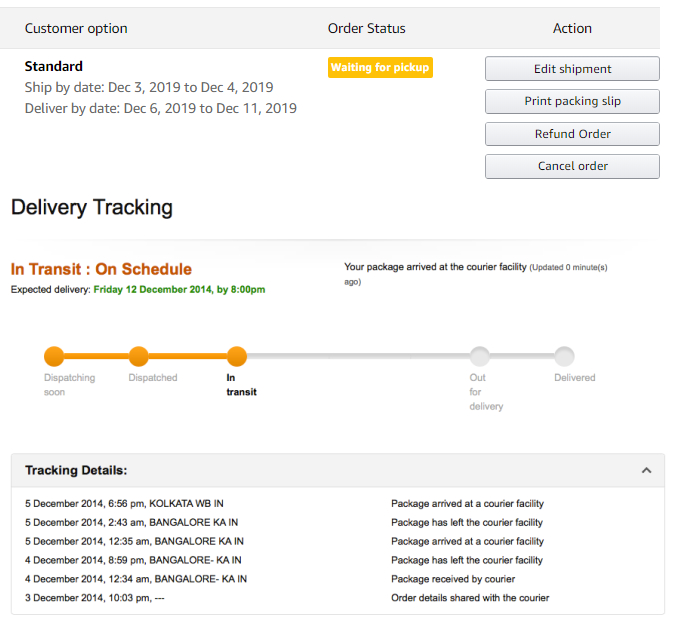 Some off-the-shelf marketplace solutions like Dokan use WooCommerce shipping plugins to connect with external APIs. The limitations or inflexibility of these plugins may make this option unsuitable for your marketplace startup.
Design and test your marketplace shipping strategy
Once you have a handle on the various moving parts of marketplace shipping, it is time to design and test your shipping strategy. The best place to start is with your shipping goals. Do you want to increase conversions or average order value? Do you want to expand your market or inventory?
With goals in place you can start testing your shipping assumptions with an MVP version of your marketplace. The user data your MVP platform generates will help you understand and serve their shipping needs better.
Key assumptions you will have to make 
Does your marketplace or individual sellers take care of shipping?
You can answer this by finding out if there are supply or demand constraints. Demand constraints usually mean that sellers rely to a great extent on the marketplace to generate buyers. Sellers can then be expected to do their own shipping as is the case with UK marketplaces like OnBuy and ASOS.
An exception would be when some sellers are not experienced enough to take care of shipping and you want to ensure high customer satisfaction. In that case, an automated shipping solution where items are simply collected from sellers and delivered to buyers makes sense. Event ticket marketplace, FanPass, followed this route very successfully, by utilising event venues as collection points for tickets.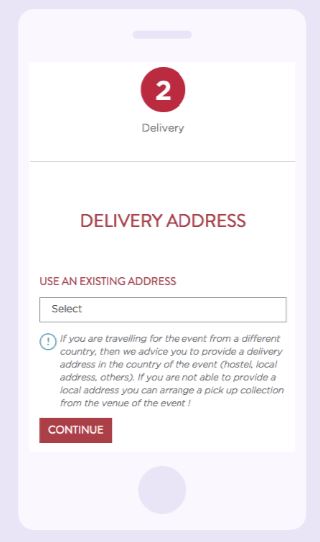 Obviously if there are supply constraints you want to make your marketplace as attractive as possible by offering sellers an efficient, cost-effective shipping service. Which brings us to the next assumption that needs to be made.
How much of the shipping process should your marketplace take on?
As we saw earlier, marketplace shipping has many logistical components such as packaging, labelling, storage, tracking and returns. The more of those aspects your marketplace takes on, the more valuable it becomes to users. Amazon's marketplace is a good example. Its success can be partially attributed to Amazon's end-to-end shipping solution (Fulfillment by Amazon) which even includes customer service.
Early-stage marketplaces should be careful though that they don't overreach. Assuming too much responsibility early on could jeopardise your profitability and service levels; rather add incremental value based on user feedback. Not On The High Street, for example, created a framework for shipping options, but leaves actual fulfillment to sellers. Another cost-effective way to support sellers and promote high service levels, without taking on too much extra responsibility, is via shipping guides.  
It's worth noting that some sellers, especially larger more established players, don't want to be restricted as to how they manage their shipping. That requires some flexibility on the part of your marketplace. Tech marketplace, Newegg, caters to all types of sellers by offering three levels of support: seller self-shipping, a networked fulfillment service, and an end-to-end 3PL service.
To make sure you offer the right level of service you should segment your sellers into individual, boutique, and corporate sellers according to their shipping experience and sales volumes. The resulting dominant seller segment should have a strong influence on your shipping strategy.
Which shipping options and delivery rates should your marketplace offer?
As we've seen, shipping can have multiple pricing tiers and delivery timelines. Figuring out which ones are best for your marketplace depends on factors like customer location, product types, cart abandonment rates, and the competitive landscape. 
Consumers love options, so generally it's a good idea to offer standard, expedited and express shipping. Obviously the faster your delivery times, the higher your conversion and repeat rates. Speed has to be balanced with cost though. Test your delivery rates with the following formula:
Compare conversion rates between free and paid shipping options.
Test margins and average order value by increasing the minimum order threshold for free shipping.
Measure the impact of free shipping on the profitability of selected products.
Evaluate the effect of including the cost of free shipping in product prices.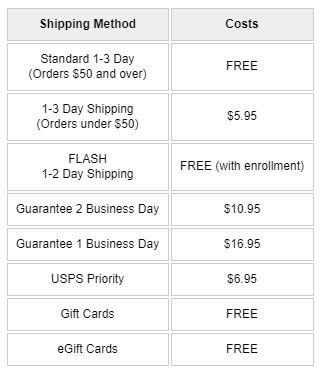 Don't forget the user experience when you design your shipping strategy!
Successful marketplace shipping does not only revolve around actual delivery times and rates. Buyers want the delivery process to be smooth and transparent as well. 
Showing estimated shipping costs on product pages or at checkout enhances transparency and trust. So do clear links to return policies and shipping information.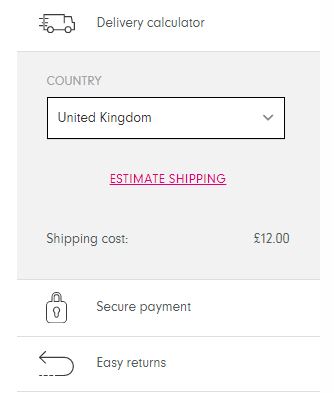 Using delivery dates instead of shipping speed at checkout removes the pressure on users to calculate delivery dates themselves. This can be tricky when you have to take into account weekends, public holidays, and order cut-off times.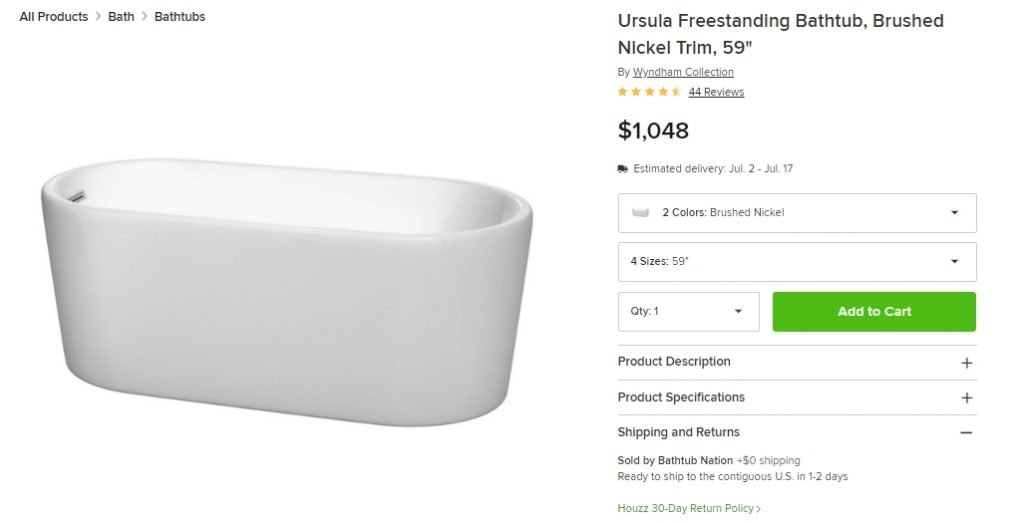 If your marketplace allows cross-border transactions you will have to ensure internationalisation of currencies, languages, date formats, and address formats. For instance, using the European date format (dd/mm/yyyy) in the US market (mm/dd/yyyy) can cause some serious confusion.
Guarantees that include money back or discounts on future purchases, when items are not delivered within the stipulated time, can build trust and loyalty. The same goes for customer service that resolves shipping disputes in a fast and efficient manner.
---
The unique shipping needs of each retail marketplace is yet another good reason why it's better to use custom solutions for marketplace development. Popular marketplace builder, Sharetribe, has even admitted that their off-the-shelf templates cannot be adapted to the shipping needs of your users. Enough said.
Implement the right shipping strategy for your marketplace. Contact the marketplace experts for a free consultation.