If you want to understand what the marketplace model offers startup entrepreneurs, established companies, consumers, and online sellers in 2022, you have come to the right place. Continue reading for a succinct, jargon-free breakdown of what 'online marketplace' means in 2022, what is driving growth in online marketplaces, and where the opportunities for new marketplace startups lie.
What is an online marketplace?
A common definition of online marketplaces is that they are digital platforms that connect multiple buyers with multiple sellers. 
But that short description does an injustice to what has been described as the 'most powerful business model' since the dawn of human commerce. Let's be honest though, communal markets are not exactly a novel idea; physical marketplaces, such as souks and bazaars, have been part of the commercial landscape for millennia. The internet era has simply put them on steroids.
To get a better understanding, let's look at the main characteristics of an online marketplace in 2022:
Efficiency – centralised marketplaces consolidate fragmented, underserved markets, removing a lot of the fruitless searching found in traditional shopping.
Convenience – online marketplaces offer 24/7 browsing, comparing and ordering, as well as same-day deliveries.
Transparency – peer-reviewed products and services build trust with buyers.
Secure and streamlined – the platform owner is an intermediary that facilitates connections, interactions, and transactions between buyers and sellers via search features, order flows and payment systems.
Quality control – sellers are in fact the inventory, which is why seller curation is so important.
Scalability – fully-automated marketplace platforms can replicate transactions at a much faster pace and at a fraction of the cost of traditional businesses. 
Profitability – marketplaces that own the transaction flow avoid platform leakage and those with high

match rates

have excellent liquidity levels.
Network effects – in two-sided platforms like marketplaces, the more one side (e.g. buyers) uses the platform, the more incremental value is created for the other side (sellers). 
Another factor that makes the marketplace model so powerful is its fortuitous position at the nexus of some of the most disruptive trends in the history of commerce: the sharing economy, the platform economy and the information economy.
Different types of marketplaces
Over the years marketplaces have been categorised in many different ways, depending on which aspect the author wanted to emphasise. The predominant departure point is to look at the nature of the buyer and the seller:
B2C (business-to-consumer) – Sellers are professional merchants that sell their goods to private buyers. Most retail marketplaces operate on this basis, e.g. Amazon and Etsy.
B2B  (business-to-business) – Both buyers and sellers are operating as business entities. This has obvious implications for the procurement process, such as adhering to request for proposal formats and compliance policies. Wholesale marketplaces like Faire and logistics marketplaces like Flexport fall into this category. 
P2P – Peer-to-peer platforms form part of the

sharing economy

. Buyers can be sellers and vice versa. Uber and Airbnb are prominent examples.
G2B (government-to-business) – Government-run marketplace platforms bring transparency and efficiency to public procurement processes.
Crowdsourcing – platforms like Kickstarter and GoFundme use a donation-based model to fund anything from artistic projects (movies, albums) to charitable initiatives (medical procedures).
Marketplaces can also be grouped by which party controls the transaction
In double-commit marketplaces that require negotiation, like UpWork, both buyers and sellers are involved in the transaction process.
Buyer-centric marketplaces like Amazon or Airbnb, have buyers initiate the transactions, while passive sellers simply display the details of their products.
With on-demand marketplaces like Uber, the platform automates the matching of buyers and sellers, removing the need for them to interact during the transaction process. 
Another way to look at marketplace categories is by the type of inventory it offers (what is being sold?)
Product marketplaces sell goods in either the consumer retail space (Amazon, Etsy, eBay) or provide wholesale items to other businesses (Handshake, eWorldTrade).
Service marketplaces like Thumbtack, Taskrabbit and Upwork connect service providers with individuals or organisations that require specific services.
Hybrid marketplaces like Houz provide both goods and services. Complementary services often piggyback on the core retail goods  offering. In Houzz's case interior design and architectural services perfectly align with its inventory of furniture and decorations.
Amazon and Alibaba are probably the best examples of horizontal marketplaces that stock an almost infinite number of items in every conceivable vertical. 
Not every marketplace can be an 'everything store' like Jeff Bezos famously called Amazon. The barriers to entry are just too high. That's why many of the fastest growing marketplaces today are specialising in vertical niches. For instance, Etsy only sells craft and vintage items, while Tripadvisor sticks to hotels.
Marketplaces can also be ordered according to their revenue model
Once-off revenue models mostly include commission (Amazon), featured listing fees (Gumtree) and lead fees (Thumbtack). This model is best suited to platforms with high transaction volumes.
Most marketplaces that rely on recurring revenue utilise a subscription model. In the retail sphere, subscription box marketplaces like The Box Hut are good examples. Software aggregators that provide subscription access to apps like Atlassian Marketplace, Github Marketplace and Salesforce AppExchange are known as SaaS marketplaces. 
Commoditised marketplaces like Uber and DoorDash rely on frequent, fast transactions that don't require service provider differentiation to standardise pricing. You don't care who is delivering your pizza, as long as the price remains constant. 
The buy-now-pay-later revenue model is rapidly gaining ground as millennials and Generation Z consumers flock to its flexible payment structure. Fintech applications like Klarna have made it possible for marketplaces like Sephora to substantially increase their revenue.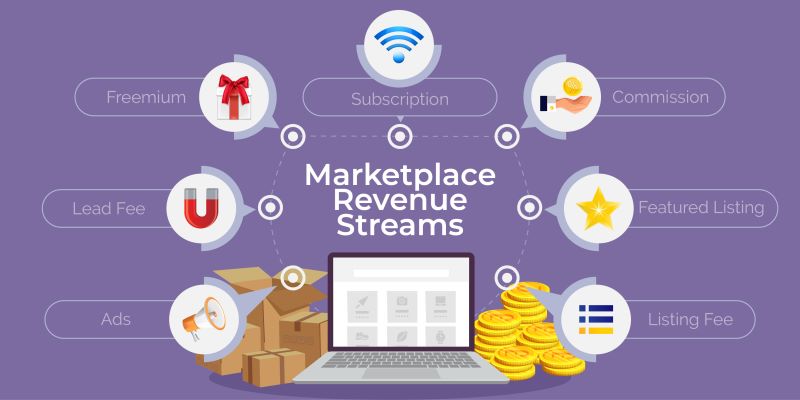 Managed vs non-managed marketplaces
First generation marketplaces such as Craigslist were mostly non-managed and differed very little from online listing boards. Except for basic category structuring, peer reviews and payment gateways they take very little ownership of the transaction process.
Managed marketplaces, in contrast, provide value-added services that streamline the matching of buyers and sellers. The extent to which a marketplace is managed depends on its level of involvement in the transaction process. 
Lightly managed marketplaces like Airbnb (risk minimisation, booking system) and Uber (automated matching, standardisation) still simply facilitate the transaction. They differ from fully managed marketplaces like Opendoor that owns the transaction. In Opendoor's case by buying properties from sellers and selling them directly to buyers.
Instead of focussing directly on inventory, some managed marketplaces apply vendor curation mechanisms to ensure higher match rates and satisfaction levels. Fanpass, an event ticketing platform, for example, rewards sellers that provide high service levels with Trusted Vendor status.
Factors driving online marketplace growth
Amazon, the ubiquitous online retail platform, has come a long way since it posted its first profit of $5 million in Q4 2001. Zoom forward twenty-odd years and Jeff Bezos's 'Everything Store' posted a mind-boggling $21.3 billion net profit in 2020. Sales worth $386 billion made it the world's second largest company by revenue that year. Third-party vendors, who sell their goods through Amazon's Marketplace platform drove almost sixty percent of retail sales.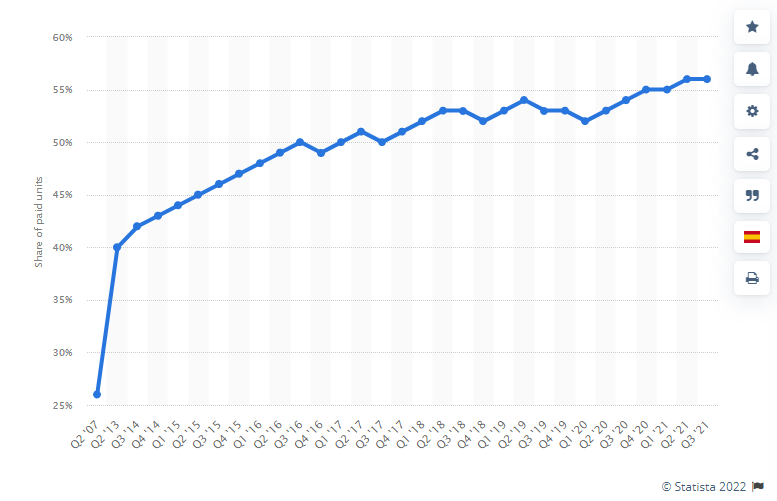 Marketplace growth is not just limited to digital-first companies like Amazon. Amazon's closest competitor and the world's largest company based on revenue, Walmart, has also seen rapid sales growth on its marketplace platform. 
The above two behemoths are not outliers though. The 100 largest marketplace platforms pulled in 62.7% of global ecommerce sales in 2020. That represents a 29% jump in gross merchandise value from 2019.
Probably more important for the future is the growth in actual marketplace startups, which serves as a barometer for confidence in the marketplace business model. AngelList, an online startup and investor index (which kind of makes it a marketplace in itself) recorded 270 marketplace startups in 2011. By 2015 that number had grown to 3,951, followed by an even bigger jump to 13,054 startups in 2021.
The same accelerating trend can be seen in other startup and software company repositories like Dealroom and Crunchbase. It's clear that a widespread adoption of the marketplace model is in full swing. 
Getting even more granular, the number of successful online marketplaces has also accelerated. Over the past five years marketplace unicorns have increased by 285% from 135 to 520. Exits (acquisitions, IPOs & SPACs) have jumped 1,000% to $678 billion over the same period.
So what is driving all this growth?
Consumer-related trends
As we mentioned back in 2019, there are a number of consumer-related factors driving the proliferation of marketplaces:
Accelerated adoption of omni-channel shopping by consumers, e.g. browse and order online and pick up in-store.
Increased omni-channel selling – more online and bricks-and-mortar sellers are complementing their single-vendor channels with a digital marketplace presence. A recent agreement between Walmart and Adobe will allow users of Adobe's Magento ecommerce software to access the former's fulfillment technology, making it easier to sell their goods on Walmart's Marketplace platform. 
Customer centricity, e.g. one-click checkout, same day deliveries, and hassle-free returns.
Immersive shopping experiences – Augmented Reality tools are being used to make shopping feel more tangible.
Hyperlocal and hyper-vertical niche platforms, such as fresh produce marketplaces for specific cities.
Increased personalisation of the marketing and sales funnels via tools such as data modelling, Artificial Intelligence and Machine Learning. AI and ML powered chatbots are getting so smart that it is sometimes difficult to distinguish them from a human customer service agent. 
Rapid growth in voice (Alexa, Siri) and visual search (Google Lens) capabilities for online shopping. 
Fintech solutions like Klarna (payment plans) and Chargebee (recurring billing) are giving marketplace consumers more payment options.
Seller-focused trends are also playing a role in growing marketplace adoption
Value-added services, such as data-sharing, analytics (e.g. consumer behaviour, product trends), digital marketing, and content services such as photography are attracting more and better quality sellers.
Self-service promotional tools are giving sellers more control over their brand, while attribution tools like Amazon Experiments help sellers to test what listing content works best.
New technologies such as blockchain are making it easier to develop marketplaces for complex user journeys such as professional service industries (lawyers, accountants, engineers) and B2B procurement (due diligence, compliance).
It's not only Walmart that's investing in an online marketplace. At the enterprise level, there seems to be a growing trend of large bricks-and-mortar companies collaborating with marketplace technology specialists (instead of trying to build a platform themselves and messing it up like Tesco).
A good example is Macy's, the venerable US department store chain, that has formed a partnership with Mirakl, a French marketplace solution provider, to expand its omnichannel footprint with a curated marketplace. Other retail giants that are following suit include Hudson's Bay, Kroger and Chipotle.
A complementary service marketplace can make a lot of sense for some retailers and primary service providers. For instance, Nestify, a property management platform, created a service marketplace that connects independent cleaning contractors with the properties they manage. The added value has boosted their growth significantly. 
Fresh opportunities for online marketplace startups
Two and a half years is a lifetime in ecommerce though. The Covid-19 pandemic and its associated fallout has either jump-started new trends or hastened incipient ones. 2022 offers ecommerce entrepreneurs renewed incentives to get their marketplace idea off the ground. In addition to the above-mentioned trends, two major factors are supporting new marketplace development: Funding and Technology.
Record amounts of money are being pumped into marketplace startups
Investment platform, Dealroom, recently reported that 2021 was a record year for online marketplace investment, with marketplace startups raising $139 billion globally at a combined valuation of $7.2 trillion. Investments in marketplaces were driven by accelerated user adoption, ambitious founding teams and low-interest rates.
It's never been easier to test and refine your marketplace concept
A proliferation in no-code and turnkey technology options like Airdev and Sharetribe has made it much cheaper and quicker to test initial product-market fit. Early marketplace builders required a lot of tech know-how to set up. The new generation builders are truly off-the-shelf. 
Of course, these ready-made solutions still have downsides, such as not catering for all user journeys or payment flows out of the box. Check out this post to learn more about the pitfalls of turnkey software, AKA marketplace builders.
Fortunately, there has also been a commensurate rise in software developers that specialise in building scalable high-growth marketplaces. These experts use appropriate technology, custom user flows and lean iterative development processes to grow product-market fit, which lead to higher success rates.
Auxiliary services for non-core activities such as logistics, packaging, and marketing are also expanding the marketplace development ecosystem. Amazon's Fulfillment by Amazon (FBA) and Shopify's Fulfillment Network are two of the most well-known examples.
Dangers of the marketplace gold rush 
Most world-changing trends are usually accompanied by downsides. The First and Second Industrial Revolutions may have produced rapid technological advances, but they were also marked by worker abuse and ecological damage. The Digital Revolution in general, and the marketplace model in particular, are no different.
Monopolies, exploitation and consumer abuse
Defensive moats, such as economies of scale, of very large retail marketplaces like Amazon make it difficult to compete. This can lead to a lack of options for both sellers and buyers. Sellers are especially vulnerable to price gouging. They should thus do a cost-benefit analysis comparing the advantages of market access with the threat of decreased margins.
Freelance marketplaces like Upwork and Fiverr and on-demand platforms like Uber and Delivery Hero have been accused of exploiting gig workers. Indirectly in the case of the prior (as platform saturation causes a price race to the bottom) and directly by the latter (treating drivers as contractors without benefits, instead of as protected employees). 
The rising incidence of fraud (e.g. fake goods and reviews) on online marketplaces has necessitated a widening of the ambit of consumer protection. There is mounting pressure on marketplace companies to forego their arms-length middlemen status and take some responsibility for what happens on their platforms.
---
Ultimately though, the marketplace model offers far more positives than negatives. Its ability to push transparency and accountability is without par. Millions of small businesses have found a targeted way to reach more customers. And consumers have never had more options and convenience. 
The ongoing evolution of marketplaces continues to deliver exciting new ways for buyers and sellers to interact, making shopping and procurement processes ever more seamless. We can't wait to see what the next two years hold for these amazing platforms.