The phenomenal growth of the online marketplace model shows no signs of slowing down. Marketplace sales made up 60% of the $2.86 trillion global ecommerce market in 2018, following 20% year-on-year growth. In Britain, online retail now makes up almost 20% of total retail sales, and is predicted to eclipse brick-and-mortar sales by 2028.
If you are a budding digital entrepreneur, eager to take advantage of all those buyers and sellers moving online, there are some new and ongoing marketplace trends that you need to keep in mind though.
Online marketplaces' share of the UK ecommerce sector is still dominated by international operators like Amazon and eBay and a few homegrown success stories like Rightmove, Gumtree, and Deliveroo. Chinese e-commerce giants are also throwing their hat in the UK ring, with China's second largest, JD.com, committing €1 billion over the next two years to launch its platform in the UK, France, and Germany.
Trying to compete head to head with these behemoths will usually result in a resounding defeat, as Tesco discovered last year. Fortunately, maturing technologies, evolving business models, and changes in consumer behaviour are part of marketplace trends that are creating fresh opportunities for entrepid digital entrepreneurs.
Blending physical and online business models
The lines between physical and online shopping are continuing to blur for a number of reasons. Although physical stores are closing at an alarming rate, they still have an important role to play in conjunction with marketplace business models. This marketplace trend is evident in hybrid models such as click-and-collect, a growing phenomenon in UK ecommerce, with sales projected to double to £9.6bn by 2022.
Globally, Amazon is leading the way for digital-first businesses making forays into the physical retail space. It already has more than 500 Whole Foods Markets in North America and the UK, as well as 13 Amazon Go (cashierless grocery stores) and 17 Amazon Books stores. Expansion plans include opening up another 3,000 Amazon Go stores over the next 2 years.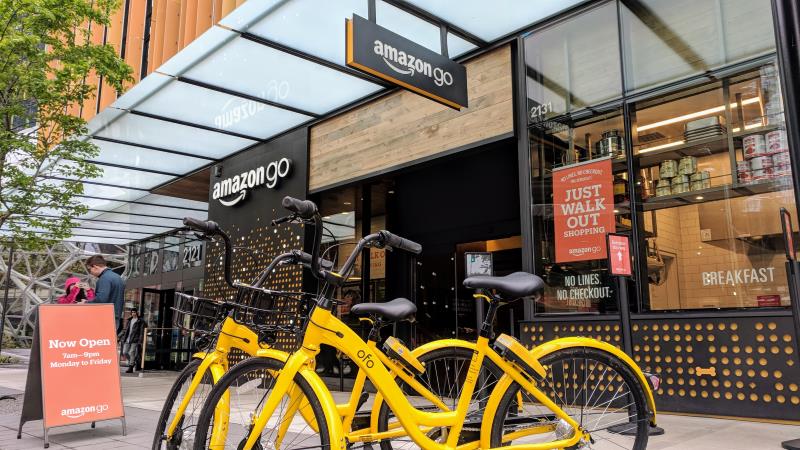 According to pundits, Amazon's off-line strategy rests on four pillars: building trust in its private label brands by giving customers the opportunity to physically handle items, gathering data on physical shopping behaviour, creating mini-warehouses for faster delivery, and making collections and returns easier. 
The trend is moving in the opposite direction as well. Physical retailers like Walmart are investing heavily in ecommerce platforms to stay relevant to consumers. The world's largest retailer by revenue is pushing its omnichannel approach hard, by building partnerships with delivery companies like Instacart and growing its Walmart Marketplace for third-party vendors. It seems to be paying off, with Walmart experiencing 37% ecommerce growth in Q2, 2019.
Traditional brick-and-mortar retailers have the additional strategic advantage of using existing depots and stores as fulfillment and distribution centres. Walmart's physical footprint means that 90% of the US population lives within 10 miles of one of its stores. 
Of course, the average marketplace startup doesn't have the resources to invest in permanent physical locations. Pop-up stores are therefore a  cost-effective solution. It allows customers to interact with products without expensive leases and long set-up times. Fine art marketplace, Project Art, successfully uses hotel rooms as temporary galleries to display and sell art to aficionados. Even Chinese ecommerce giant, Alibaba, uses pop-up stores to promote its Tmall marketplace's Singles Day sales drive.
Linking online and physical real estate plays well with consumer behaviour such as ROPO (Research Online, Purchase Offline), a trend where customers first visit online platforms to discover the products they want to buy. If they decide they want an item, they then complete the transaction in-store to avoid shipping costs and delays. Local SEO for each store's landing page on your marketplace platform can be a powerful driver of this type of traffic. 
A blended approach to retail offers the best of both worlds. It combines the range, availability, and convenience of online shopping with the tactile quality verification of the in-store experience. This is backed by research from global payment platform Adyen, which revealed that only 3% of Britons completely stopped to shop in-store, with the vast majority more likely to complete a purchase in-store than online.
Looking for help with your online marketplace?
We've got loads of experience.
Talk to us
Increased customer focus
The initial success of online marketplaces relied to a great extent on their advantages over single-vendor ecommerce. Since marketplaces aggregate products and services from multiple vendors they are able to deliver more options, better availability, and more competitive pricing. Marketplace review systems also have a tendency to promote quality. 
As consumers have become used to having an abundance of options, they have started demanding better service levels as well. Surveys show that, in addition to availability, product range, and pricing, marketplace customers now also compare cost and speed of delivery options and return policies before making online purchases. This marketplace trend has been boosted by services like Amazon Prime which have created an expectation for free, same-day delivery.
In-home delivery has been available for a while in limited locations, but is set to expand as technologies like AI, video and mobile apps boost its availability and trustworthiness. In the UK, Waitrose has already partnered with Yale to allow access to private homes for deliveries.
It's clear that marketplaces that don't put the customer at the center of everything will fail. It's therefore critical to build a customer feedback loop into your marketplace development process to understand your customers' evolving needs. Without those insights your business runs the risk of becoming irrelevant.
Experiential and immersive shopping experiences
This holistic coming together of brick and mortar and online marketplace models has also paved the way for a rise in experiential retail. Consumers have shifted from merely shopping for products to looking for a more engaging experience. This marketplace trend has been driven mainly by millennials and their need for experiences over things.
Beauty product platform, Sephora, transformed its customer experience with the 'New Sephora Experience' which features digital apps that allow consumers to test products, browse shoppable connected terminals and benefit from beauty tutorials including personalised diagnostic skincare services.
The online shopping experience is also becoming more immersive as different entities cooperate to create a distributed retail chain. An example of this type of collaboration exists between digital media site, Mashable, and the eBay marketplace. Customers can now use eBay to browse and purchase products that are featured on Mashable, without leaving the Mashable site.
Governments are providing new marketplace opportunities
Business to Government (B2G) interactions are also changing, driving a marketplace trend on a global scale. B2G marketplaces have different characteristics to commercial marketplaces, such as the promotion of diverse socio-economic goals, and are subject to strict regulations and must follow specific rules and guidelines.
Marketplace technology is being used to help government buyers easily find business sellers, make purchases, and track and report spending. These marketplaces also offer tools to promote better compliance, competitive pricing, and greater oversight control. 
One example of this is the UK G-Cloud Framework, which regulates transactions between the UK government and cloud-based service providers. Some 4,200 suppliers now operate within the procurement framework which has facilitated £4.79bn of sales, according to Crown Commercial Services.
Other governments such as Singapore, the US, and India have also started using online marketplaces for their procurement needs. These B2G marketplaces are only likely to grow further as they continue to offer more transparency and competitive pricing.
More mega marketplaces
Mega marketplaces like Amazon and Alibaba that can satisfy the needs of almost any customer continue to dominate the marketplace landscape. Today, 90% of UK shoppers use Amazon, mostly due to its relentless focus on the customer experience and innovation.
These mega marketplaces are going to get even more significant as they continue to go beyond selling things to creating experiences. Amazon Prime and Alibaba 88VIP already enable consumers to access video streaming hubs, on-demand delivery, movie ticketing, music streaming and more.
As mentioned, traditional retailers are also building online marketplaces to compete with the likes of Amazon and eBay. Walmart alone invested $3.3 billion in Jet.com, acquiring its Hayneedle marketplace in the process.
With thousands of international locations and the resources to create fulfilment centres, Walmart now has the potential to compete with its online rivals. This trend could prove a Goliath versus Goliath battle in the future as mega companies duke it out for marketplace supremacy.
More local and vertically focused marketplaces
To compete with mega marketplaces new entrants are increasingly focusing on specific geographical areas and industry verticals. This allows them to better target and serve customer groups based on their unique demands and needs. 
Local marketplaces tend to rely on the physical proximity between buyers and sellers, as well as knowledge of local customs (local relevance). For example, Newegg, a marketplace for computer hardware and electronics, serve customers in 50 countries but with a focus on local service. Key elements such as local-language support and local returns have helped it tap into emerging markets and high-growth regions.
That's Champion Pet is a new online marketplace that promotes products from the North of England. It's colloquial approach and dedicated marketing support for sellers has differentiated it from larger, location agnostic competitors.
Etsy and Houzz are two well-known vertical marketplaces, but since they have become billion-dollar platforms they have spawned other more specialised niche marketplaces like Storenvy  This is a good example of increasing hyper-vertical specialisation.
Hyper-personalisation 
A Deloitte study found that people want products and services tailored specifically to them, with 36% expressing an interest in purchasing personalised products and interestingly, 48% are willing to wait longer to receive them. 
New technologies and the continued proliferation of Big Data means retailers, big and small, can use a combination of behavioural and real-time data to deliver on this need for more personalised customer journeys. 
To be successful in this endeavour, the right infrastructure must be in place to support hyper-personalisation across all online and offline channels so that consumers can feel the full benefit whether they are shopping online or in-store.
Chinese e-commerce company, JD.com, opened a cashierless store in Jakarta, Indonesia, that tracks shopper movements and items by RFID. This allows them to generate heat maps, monitor traffic, and analyse shopper preferences that can be used to build a better personalised experience for its customers.
User generated content
Online marketplaces are increasingly soliciting customer engagement beyond product reviews and user feedback. Reward schemes and community building on third-party platforms like Instagram have seen the rise of user generated content (UGC) as powerful drivers of marketplace traffic.
UGC now plays a pivotal role in how customers are engaging with brands and is transforming how online marketplaces can market themselves to consumers. It also provides great SEO value and builds deeper trust with consumers.
Shared workspace platform, WeWork's Instagram content is 90% user-generated. By putting the focus on happy users they can better show what the platform can do for new customers. A good example of how making it easy for customers to contribute can turn them into brand advocates without the promise of rewards.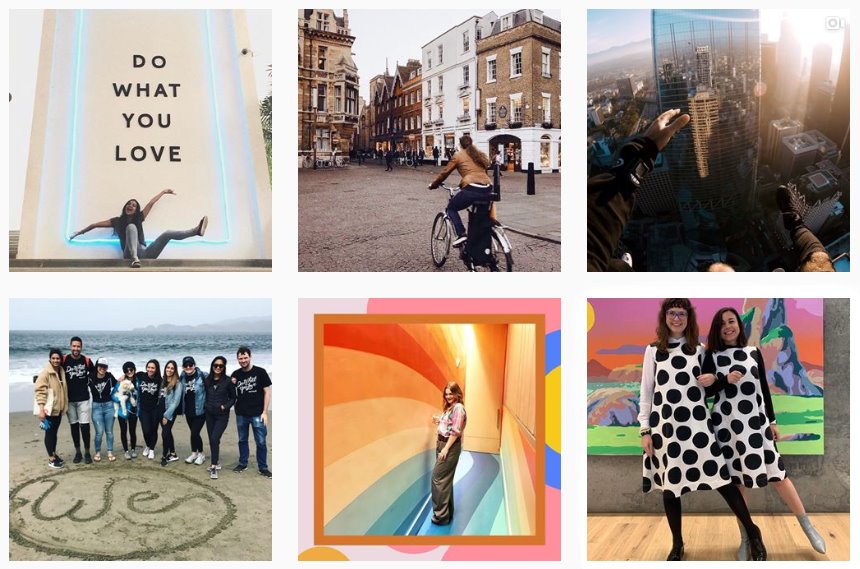 Mobile performance and Progressive Web Apps
The paradigm shift to mobile has paved the way for progressive web apps that have the high speed of native apps and the reach of mobile browsing. It is well-known that consumers will abandon a site if it doesn't load quickly. PWA offers the functionality needed to cut loading times and create a better shopping experience.
When UK retailer Debenhams found their ecommerce site's mobile performance lagging they were one of the first UK retailers to invest in a PWA. Loading up to four times faster than their previous mobile site it played a significant factor in a 40% increase in revenue and a 20% increase in conversions.
Increased PWA adoption can play a sizeable role in solving issues such as load times, cart abandonment, and poor conversion rates.
Voice & Visual search are unstoppable
Business research firm, Gartner forecast that by the year 2020, 30% of all web-browsing sessions will be managed without a screen. 
Well-known voice assistants like Amazon's Alexa and Apple's Siri are being joined by smaller ecommerce players like Argos which has launched its own voice shopping service based on Google Assistant. Argos customers can now check availability and reserve products by simply speaking to their phones or Google Home device.
Since voice assistants are more likely to be developed by marketplace platforms than brands, they provide an additional value proposition for marketplaces over single-vendor sites.
As visual beings who process images 60,000 times faster than text, it's no surprise that visual search is becoming increasingly common in online retail and marketplaces. It may even eventually surpass the typing of keywords as preferred search method.
New visual search technology, aided by artificial intelligence and machine learning, has made it possible for users of ecommerce platforms like ASOS to snap or upload photos to find similar items. This follows Google's own image recognition software launched in 2017. Google Lens can identify items and make retail suggestions via your smartphone camera.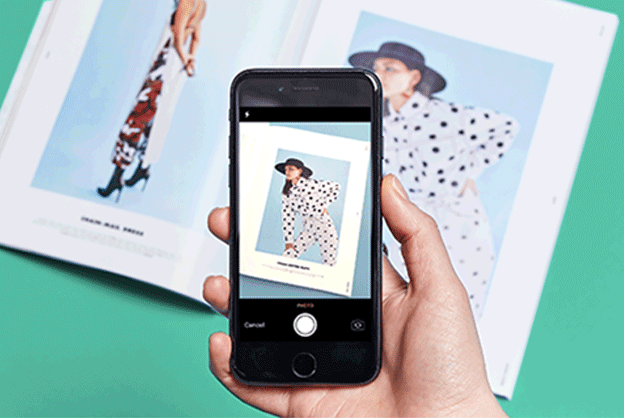 These new technologies reduce the number of steps to a purchase by doing away with the need to scroll through multiple pages to find a particular product. Recommendations, based on similar visuals, colours and styles, help refine the buying process.
By 2020, over 6 billion people will have access to a smartphone with a mobile camera. That's 6 billion people with the ability to snap a photo of an item they like while browsing at home or walking past a storefront. This presents huge opportunities for companies that have implemented the right visual search technology.
Structured data means that keywords will remain important even for visual and voice search. Read about the importance of structured data and how it supports voice and image search.
Artificial intelligence & augmented reality
AI solutions have become much more accessible to smaller businesses. There are now even 'off the shelf' AI tools that will suggest products to consumers based on machine learning that automatically generate recommendations. 
AI is not only revolutionising customer recommendations. It is already streamlining customer service through AI chatbots and processing big data to generate new insights about consumers and the broader market. AI-driven analytics have also made it easier to pinpoint fraudulent transactions and prevent fraud.
Online marketplaces can now leverage AI in logistics, demand forecasting, supplier selection and production planning as it works it's way into the entire marketplace chain.
While AI is establishing itself as a mainstay of the marketplace, augmented reality is showing promise as the next technology that can drive innovation in marketplace development.
Retailers are hoping that augmented reality features will increase sales and conversion rates. It could bridge the gap for those customers who prefer in-store experiences as they get to see the products in person. Augmented reality apps are already being used to show how clothes or a new hairstyle will look on you or how furniture will fit into your house.
Credit and debit cards may lose their grip on online payments
A SalesForce study found that mobile consumers make up more than 60% of e-commerce traffic. E-wallets like Google Pay, Apple Pay and Amazon Pay are part of the mobile trend due to their convenience and the security they offer. Even cybersecurity specialists recommend e-wallets over traditional bank cards due to the tokenisation that encrypts customer data.
Beyond mobile payments, cryptocurrencies have a significant role to play when it comes to the future of online marketplace transactions. The decentralisation of blockchain currencies means they can't be inflated or devalued, unlike traditional currencies. Due to its use of P2P technology, blockchain-based currencies are also extremely secure.
Ongoing marketplace trends
Consumers have increased concerns about data privacy and security. It is the responsibility of marketplaces to allay those fears with clear terms of use, privacy policies, and adherence to data privacy laws such as GDPR.
Sustainability is a growing concern for many consumers. They want better product information and transparency about the supply chain so they can gauge the environmental impact of their transactions.
More devices will be connected to marketplaces via the Internet of Things. MobyPark, a parking marketplace, has created an online ecosystem that connects parking area entrance gates to its mobile app for easy access.
Peer-to-peer, B2B, and business services marketplaces are predicted to outstrip B2C marketplaces in growth.
—————
These new trends in consumer behaviour and technology are creating more opportunities for innovative marketplace entrepreneurs. Whether you're operating on a global scale or catering for a more niche audience, leveraging new technologies and business models will be critical for success in the marketplace arena.
Marketplace development experts like CobbleWeb can help you identify the right business model and features for your new marketplace idea.