General usage
Handling the logistics of shipping and delivering products on behalf of sellers can be a powerful drawcard for them to join your online marketplace. Taking charge of the shipping process also gives you more control over the customer experience. A centralised approach makes it, for example, easier to ensure that deliveries happen on time and at the right location. 
Obviously there's a lot of logistics involved in the shipping process, from packaging and labelling to tracking and delivery. Dropping the ball can really hurt your marketplace – shipping-related issues (e.g. high delivery costs or surprise fees) are the main reasons for shopping cart abandonment. 
The complexity rises when your marketplace does business across international borders. UPS offers a proven solution with a global delivery network that covers more than 220 countries. Its comprehensive API ecosystem allows ecommerce platforms like marketplaces to integrate various aspects of their shipping functionality.
Areas that UPS APIs cover include:
Ordering: Improve accuracy of orders with Street Level Address Validation, Rating or Time in Transit APIs.

Shipping: Automate fulfilment and global shipping processes with Collection and Shipping APIs.

Customer Service: Provide visibility to customers and your customer service centre with Rating, Tracking and Locator APIs.
Popularity
In 2021, UPS was rated the world's most valuable logistics brand for the seventh year in a row by Brand Finance. It is the most popular shipping solution for the top million sites: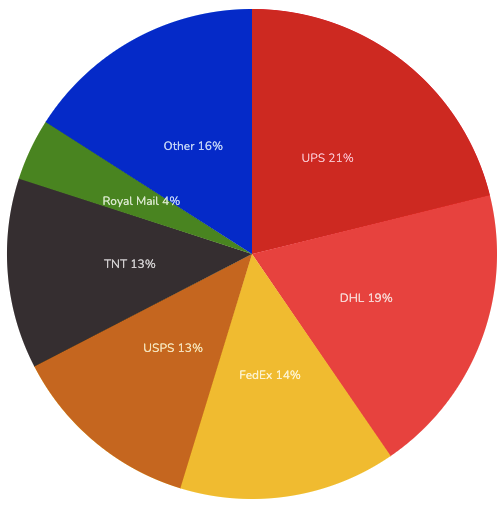 Source: BuiltWith
Marketplace benefits
UPS's API system allows CobbleWeb to develop solutions for almost any shipping use case. It provides separate APIs for different aspects of shipping, which allows us to develop powerful features that make marketplace users' lives easier.
For example, we use their Shipping API to get shipping rates and delivery dates in real time, the Tracking API to generate labels for sellers and allow buyers to track packages, and the Locator API to create a network of drop-off and pick up locations.
Shipping cost estimates provided by the UPS API can be used to increase conversion rates. Cart abandonment decreased significantly after we provided Affordable Art Fair's buyers with automatic estimates of shipping costs on product pages.