General use
According to McKinsey, 25 percent of businesses are using IoT technology with an estimated 43 billion connected devices forecast by 2023. Driving much of this growth is the fact that IoT technology has become easier to implement, allowing more SMEs and startups to take advantage of its ability to solve specific challenges. 
Axible is one of this new breed of IoT technology providers. What makes them stand out is their commitment to tailor-made solutions for each business case. 
Their hardware infrastructure comprises sensors, trackers and access control devices that respond to a wide range of signals or inputs. They can be activated by changes in magnets, light, movement, vibration, temperature, humidity, weight, depth, pressure, acceleration, geolocation and more. 
Notifications can be sent to a smartphone via text or email when a threshold is exceeded or an event occurs. Signals from devices are collected on their cloud platform where it is transformed into data visualisations for business intelligence purposes. Some events can also be managed remotely from the platform, e.g. switching a light off or unlocking a magnetic door.
Sensor use cases include alerts when daylight enters a room and a light is left on, overflowing pools or bathtubs, and temperature or humidity warnings for hothouses and cold storage. Some tracker use cases are luggage tracking, sea freight tracking, and crane motion detection when loading/unloading containers.
Access control can be implemented via smart cards, badges, keyboards, RFID tags, intercoms, license plate recognition cameras, or keypad boxes. Use cases include short-term rental property access that dematerialises at the end of the guest's stay, traffic control, smart desk occupancy management, and parking spaces integrated with a booking system.
Popularity
Worldwide spending on IoT solutions is expected to increase almost four-fold from 2021 to 2025: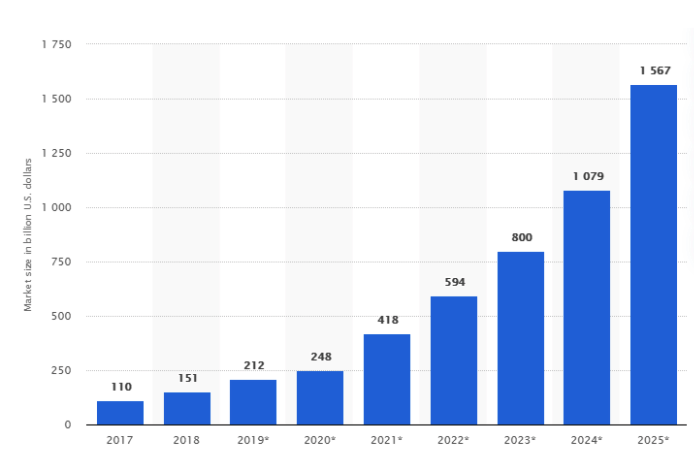 Source: Statista
Marketplace benefits
CobbleWeb has a track record of solving real-world challenges by deploying internet-connected devices. Axible is especially good at providing access control solutions for our clients.
Drivers using MobyPark's parking marketplace had to be able to access car parks via their app. We managed this with Axible's access control solution. Drivers receive access codes which they use to open entry booms.  We solved the problem of bad phone connectivity by attaching hardware to parking entrances that can accept access codes via Bluetooth or manual input.