General usage
Salesforce is arguably the most comprehensive CRM platform available. In addition to customer relationship management, it offers a host of complementary products for customer service, marketing automation, analytics, and application development.
Its core CRM features include contact, lead and sales opportunity management, workflow rules and automation, analytics, and customisable reports and dashboards.
Organisations love it because:
It is extremely customisable. Pick and choose which features are essential to your business.

It can integrate with 100s of third-party software

It offers advanced analytics tools for very granular reporting

It is very scalable

It is renowned for its customer support
Popularity
Salesforce is used as a CRM by 57% of the top one million sites: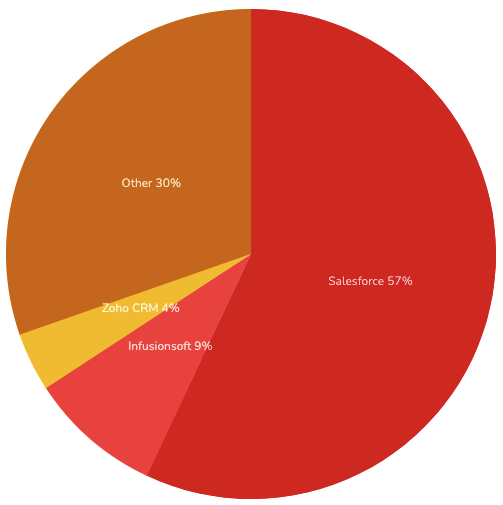 Source: Builtwith
Marketplace benefits
Its comprehensive bouquet of services has meant that some of our clients prefer to prospect, qualify and onboard sellers via Salesforce. This meant that we had to integrate bi-directional information flows between Salesforce and their marketplace platform. Thus the platform can send lead information to Salesforce where it gets qualified before sending onboarding information back to the marketplace if the seller was approved or signed up.