General usage
PayPal's main strengths are its extensive ecosystem and global footprint. Its services cover consumer payments (PayPal Wallet & Venmo), payment processing (PayPal Commerce Platform and Braintree), POS (iZettle), payouts (Hyperwallet) and fraud detection (Simility). As the most widely-used payments platform, PayPal accepts payments in more than 100 currencies across 200+ countries.
It supports most payment methods: PayPal, Venmo (in the US), credit and debit cards, vouchers, wallets, direct banking, bank redirects, recurring payments,  and buy-now-pay-later. The latter includes built-in credit services, PayPal Credit and Pay in 4, an interest-free option.
PayPal offers a range of anti-fraud measures such as automated transaction monitoring, purchase protection and seller protection, as well as anti-money laundering, PCI and KYC compliance screening. Paying with PayPal adds an additional layer of security which, together with its widespread use and highly recognisable brand name, can drive more sales.
Payment gateway integration is relatively simple, with plug-and-play modules and UI templates for small ecommerce businesses. Customisable enterprise solutions are available for larger platforms with more complex payment flows.
Popularity
PayPal is the most popular payment tool on Stackshare. Together with its digital wallet, Venmo, it is the fourth most popular online payment method in the world.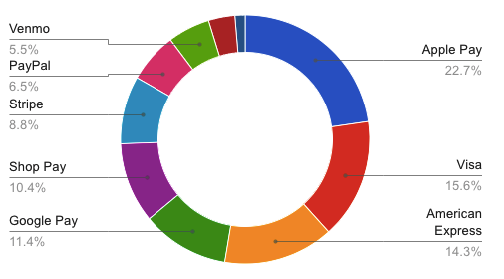 Source: Wappalyzer
Marketplace benefits
PayPal's marketplace solution, PayPal Commerce Platform, offers global scale and flexibility. In addition to PayPal's standard ecommerce features, it offers support for split payouts, delayed payouts, disputes and refund management.
Frictionless payouts nurture trust among sellers. This motivated Walmart Marketplace to integrate PayPal's Hyperwallet for payouts to give sellers more payout options. Payout volume subsequently increased by 629%.