General usage
Firstly, it's important not to confuse the WordPress CMS with WordPress.com, which is a separate paid blogging service. Secondly, although platforms like marketplaces can be built with WordPress plugins and templates, its scalability and performance limitations make it more suitable as a content management add-on.
With the caveats out of the way, let's focus on WordPress strengths as a CMS. First up is its REST API, which makes it fairly straightforward to integrate WordPress with other applications, even those built with different programming languages like React. This allows content management to be run separately from the transactional part of your platform. 
It's extremely SEO-friendly. Automatically generated title tags and meta descriptions, a, and specialised plugins, such as Yoast SEO, are just some of the ways it helps to increase search engine traffic. In practical terms, search engine-optimised product descriptions make it easier for marketplace sellers to generate leads from search engines like Google.
WordPress is incredibly extensible. Its huge developer community has contributed more than 55,000 plugins and provides advice in numerous online fora. Moving into new markets and want to make your site available in another language? No problem, WordPress has a plugin for that.
User-friendly publishing features, such as a built-in content editor, make it easy for sellers to add descriptions and images of the products or services they are selling. Its robust content management features include user roles, e.g. administrator, editor, and author, version control, and import/export of content.
Popularity
More than a third of the top 10,000 sites and 37% of the top million sites use WordPress as a CMS: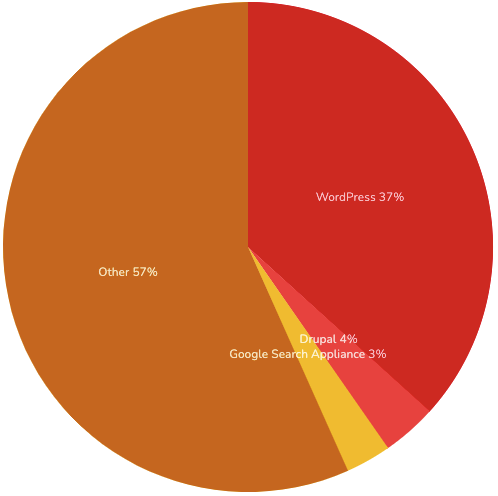 Source: Builtwith
Marketplace benefits
CobbleWeb often adds WordPress as a headless CMS to custom marketplaces built with technologies like React, ExpressJs or Symfony. It offers marketplace owners and sellers a user- and SEO-friendly way to add content such as product descriptions.
For example, we integrated the WordPress CMS with the FanPass event ticket marketplace to dynamically update content-rich information pages with new events. 
FanPass ticket sellers can add new events via a custom admin portal. Event details, such as title, category, and image, are then used by WordPress to add the new event listing to pre-created search-optimised information pages (e.g. a page about Arsenal Football Club). These landing pages have risen to the top of Google search results, driving tens of thousands of visitors to the FanPass website every month. 
Affordable Art Fair required a productive way to manage different types of content: blog posts, information pages and lead generation pages. We integrated WordPress into their platform so they could leverage its publishing tools and send lead generation data to a Salesforce CRM.