"Disruption requires discomfort" – a statement that seems counter-intuitive when applied to the hospitality industry. Who wants to be uncomfortable while travelling? Yet, Airbnb was able to disrupt this massive industry in a way no one thought possible.
Just look at the numbers. Since its creation in 2008, Airbnb has accumulated:






But that is not the point of this case study.
Most case studies present an idealised version of the business development process. They do not capture, or even allude to, the stress of building a new business from scratch. Things always seem to go according to plan, while any problems are calmly solved on a white board. The case study participants use all the right terminology and everything fits neatly into a preset paradigm – the one that the case study is meant to explore.
That perspective does not apply to Airbnb, and this case study won't try to portray it otherwise. Airbnb did follow some elements of Lean Startup methodology, but much of what they did, especially in the early days, was reactive, not proactive. Instead of trying to anticipate issues by building structures and processes that would sidestep problems, Airbnb would often scramble to find a solution to challenges that threatened its long-term prospects.
Which highlights the most important character trait you should have as an entrepreneur: being a problem solver.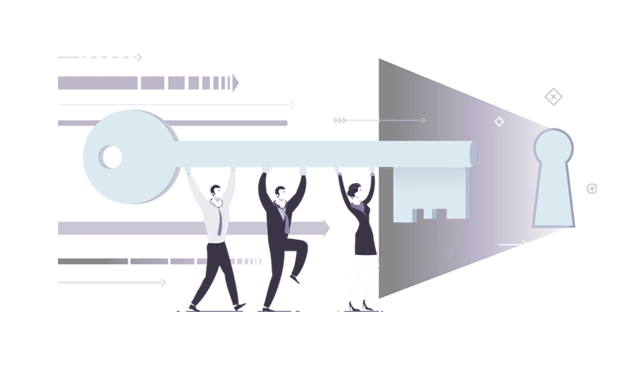 At the end of the day, the only thing that matters when a problem crops up, is that you can solve it. The Lean Startup methodology offers a great approach to solving problems, but it won't always provide the right solution. Some of Airbnb's best fixes, heck the very idea itself, was not a function of the Lean Startup method. As an entrepreneur, you will increase your opportunities for success by avoiding a dogmatic approach.
Need help with your new online marketplace? CobbleWeb has a proven track record of building high-performance digital platforms. Get in touch for a free consultation.
So how did Airbnb get to where they are today?
First Steps Towards an Empire
Depending on who you ask, the first step of any marketplace founder is to figure out the demand and supply sides of your business. Figure out who you are going to sell to and what you are going to sell, then validate to make sure you are meeting a real demand.
The problem is that both of these are wrong; neither is the first step. The first step is desperation. You have to be desperate to take a risk and do something no one else is willing to do. If you aren't desperate enough, you will just settle into the status quo.
In 2007, two unemployed art students, Joe Gebbia and Brian Chesky (here's a great article on how they met), had taken that crucial first step of entrepreneurship by reaching peak desperation. Gebbia and Chesky were living in San Francisco, one of the most expensive cities in the world, and their rent was due. They weren't looking to start a business that would one day become a billion dollar enterprise; they just didn't want to lose their home.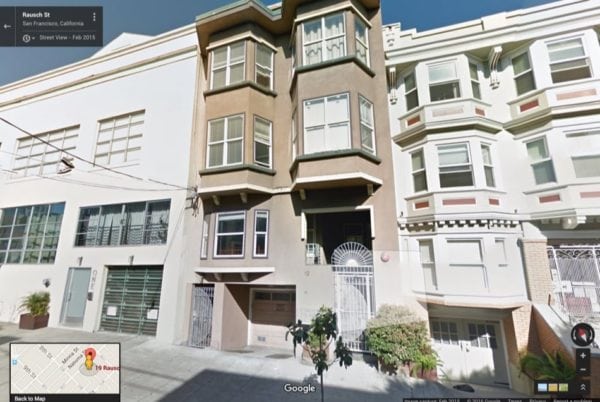 While scrounging for funds, Gebbia had an idea. If San Francisco was expensive for them, it was probably expensive for others, including travellers and tourists. He noticed that there was going to be a design conference in the city and figured that people would be struggling to find reasonably priced accommodation in expensive San Francisco. Gebbia and Chesky had extra space in their apartment and they needed extra money.
There was a potential deal to be made.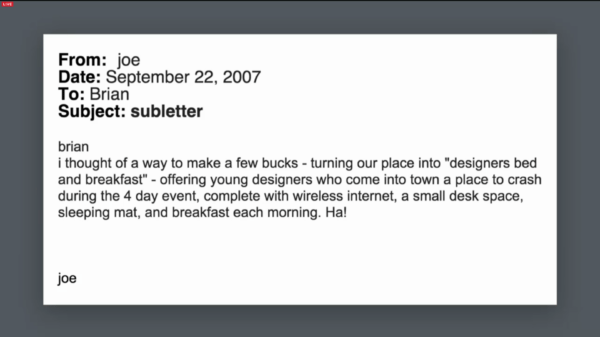 Gebbia and Chesky knew that there were a few barriers to getting people to try their B&B service, especially since people would be hesitant to stay with strangers (an assumption that had to be verified).  They decided to address the challenge with a modest web page advertising their B&B service. After all, in a wired world, a website is one of the best signals of serious intent.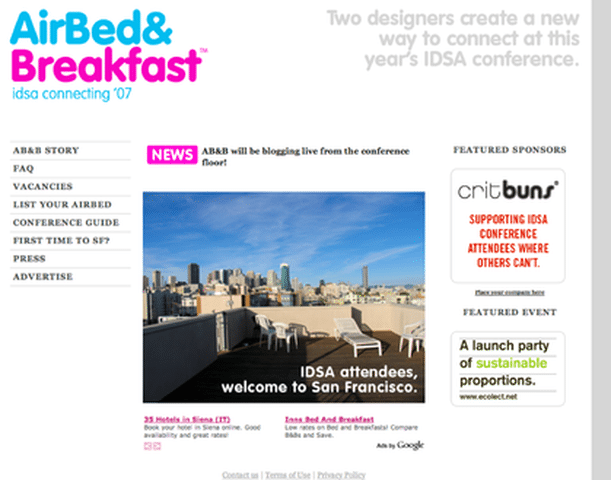 As you can see in the image above, their first website was not fancy or intricate. It had a nice clean layout, but skipped a lot of bells and whistles, i.e. features such as scheduling, calendars, or location selection.
Instead they focused on one problem; building enough trust so that people would be willing to stay at a stranger's house.
Gebbia and Chesky started advertising their accommodation service as Air Bed&Breakfast, later to become Airbnb, in the design publications that were aimed at people attending the conference. They presented them with a simple, but valuable proposition:
Lodgers would get air mattresses in the living room, free wifi, free breakfast, and the promise of a unique networking experience with like-minded people. All for a lower price than a traditional hotel in San Francisco.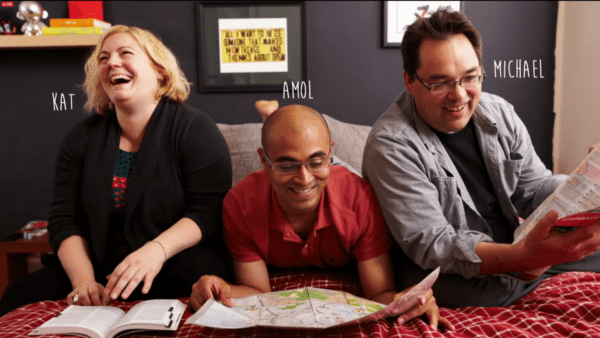 Their first three guests were Kay, a thirty-something designer based in Boston; Michael, a forty-something father of five from Utah; and Amol, a native of Mumbai who had recently graduated from Arizona State.
Their guests' stay went without a hitch, and Gebbia and Chesky realised that they had created something more than just a way to make rent. They had verified that people would consider staying in a stranger's house or apartment given the right prompting.
Without intending to do so, they had verified that their customer base existed and would pay for their service. This knowledge would mitigate the risk of trying to grow their business, since they did not have verifiable data that supported the underlying assumption of their value proposition.
Just like Gebbia and Chesky, make sure you launch the first version of your marketplace platform to test your original assumptions. Here are some insights about the principles you need to follow to design and iterate your marketplace.
But knowing you have demand is only half the battle. Gebbia and Chesky still needed to secure their suppliers. Airbnb still needed people who were willing to host people in their homes.
Let's see how they did it.
Stage 2 – Host validation
All the travellers in the entire world could be willing to stay with a stranger, but if no one is prepared to share their home there would be no market. To solve this Airbnb made a foray into finding hosts during the 2008 Democratic National Convention in Denver.
80,000 people were expected to attend, but there were not enough hotel rooms to meet demand. Airbnb thought this would be the perfect opportunity to further test their platform, given that attendees might be getting desperate.
Two weeks prior to the convention, Airbnb updated their website to include a map function so that lodgers could see where potential rooms would in relation to the sites and locations they would want to visit.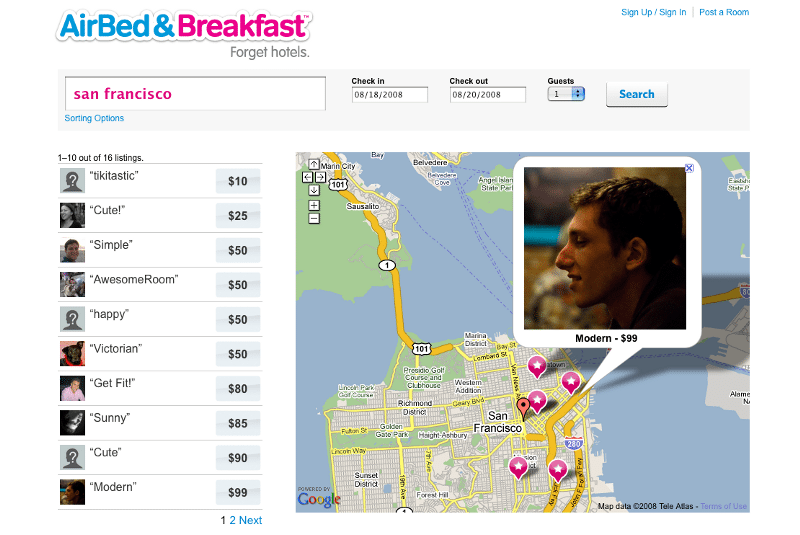 While the map was very helpful to lodgers, the amount of effort to create the feature was minimal, allowing Airbnb to maximise user value while minimising the amount of work that went into it.
It is important to note that even at this point, Airbnb was not trying to optimise for every use case. Their goal was purely to find hosts in and around high-profile events. Airbnb's narrow focus allowed them to quickly maximise their return on investment through higher conversion rates.
Between August and December 2008, Airbnb's focus on event-based stays had great success, generating a few thousand listings in 576 cities located in 67 countries. However, once the Democratic National Convention was over, Airbnb's revenue cratered, since their model was based on taking a 6 to 12 percent for each rental. Without the accommodation scarcity caused by conventions or comparable events, no one was using Airbnb. Gebbia and Chesky were back where they started – struggling to make rent, earning only $200 a week.
For a while the Airbnb team made do by selling novelty cereals called "Obama O's" and "Cap'n McCain" based on the 2008 American presidential election.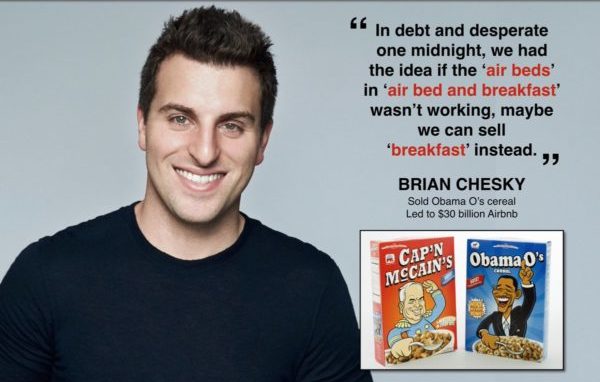 The cereal was original created as a novelty give away for the Democratic Convention, but in the end it provided some bridge financing while Airbnb figured out their next move. Once the election was over though, sales of the cereals also plummeted.
The challenge was clear. Airbnb had verified their underlying business hypothesis, but they did not have the liquidity or guidance to stabilise the business and ensure a consistent cash flow.
At this point they made a fortuitous decision and applied to Y Combinator, the most popular startup accelerator in Silicon Valley, in 2009.
The founder of Y Combinator, Paul Graham, gave them some crucial funding and even more important advice, "travel to New York and figure out how to improve your model there. " Watch this video for some more advice from Paul Graham.
New York City was already one of Airbnb's most popular destinations in terms of registering stays and it was easy to see why. There is always something to do in NYC and people have plenty of reason to travel there. However inexpensive travel options are few and far between. These conditions allowed the Airbnb team to safely assume that demand for their service would be high and that they could now begin to experiment with ways to improve the customer experience and increase rentals.
It is important to note the shift in development at this point. Before Y Combinator, the Airbnb team was understandably worried about generating revenue, because they needed it to survive. Their acceptance into Y Combinator was a social signal that they had enough proof that their model would work. They no longer needed to put time into proving their model. It was now time to optimize their product and learn how to get the most out of their efforts.
The trip to NYC marked a new chapter for Airbnb. It was time to stop building low-fidelity MVPs and start building high-fidelity MVPs. They needed to begin optimising their host and guest flows to maximise their revenue. And as you can see from the chart below, this trip to NYC marked the beginning of Airbnb's significant growth.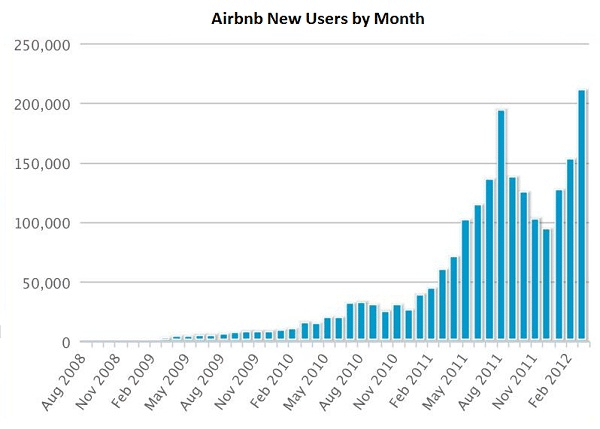 A Picture is Worth A 1000 Words
You might not be able to judge a book by its cover, but you can sure judge accommodation by its images. That is one of the first things that the Airbnb team learned when they went to New York and began talking with hosts.
An archived version of the Airbnb website (March 2009) shows the filter 'Has photos' which suggests that a number of hosts weren't publishing images at all.

The Airbnb team suspected that lodgings with better pictures were more popular, but they did not know how to address this disparity. It was in their interest to increase the number of stays at every listed residence since Airbnb generated revenue by receiving a percentage from every stay.
Instead of looking for a fast scalable solution, the Airbnb team decided to experiment with something quite opposite. They hired a professional photographer and began going to Airbnb residences to take photos.
We can see in the archive image below that a few months later (December 2009), the filter "Has photos" had disappeared and listings were being shown with pleasing images.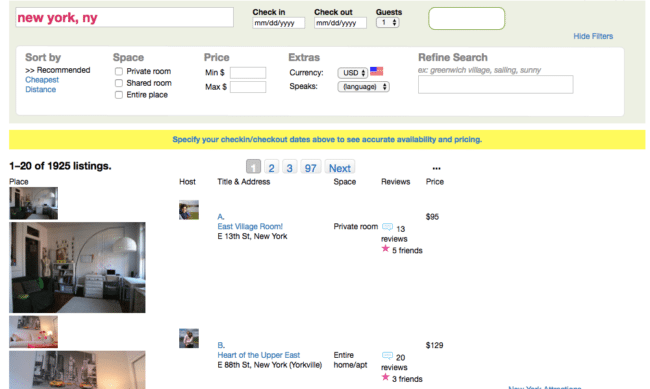 The team was surprised to learn that hosts were happy with this process and tagged along with the photographer for the shoot. The result was positive in two ways. First and foremost, it allowed Airbnb to improve their listings with better quality images. The below graph and this Airbnb presentation shows how the program translated into more reservations and stays. .
Secondly, and arguably just as important, it gave the Airbnb team an excuse to talk with hosts. This was crucial because the interaction provided additional insights that could not be gleaned from surveys or questionnaires. New ideas and concepts tend to reveal themselves in unconstrained conversations between individuals, allowing Airbnb to learn about aspects of their process that were not immediately apparent to a developer.
Airbnb's photo experiment provides an important insight. Although some aspects of a startup business must be able to scale fast, you need to know what, when, and where to scale. Sometimes there are clear benefits in focusing on something other than scalability, e.g. user experience.
Sending out professional photographers to every location did not look like it would scale for Airbnb. On the other hand, the process of using professional photographers helped the company learn important lessons and improve immediate performance. Travellers are two and a half times more likely to book listings with good quality photos, earning their hosts an average of $1,025 per month.
Airbnb now offers its hosts free professional photography services provided by more than 2,000 freelancers who have visited 13,000 listings across six continents.
Airbnb's experience has proven that something that is not scalable may just be worth the effort and create extra value.
Piggybacking on Craigslist
No case study regarding Airbnb would be complete without discussing how the platform used Craigslist to grow its business. It has been argued that  the growth hack was contrary to sound business ethics and also possibly violated Craigslist's Terms of Service. The controversy has blown over, but it is still important to emphasize that all entrepreneurs should embrace sound business ethics.
At one time, Craigslist was the most popular website for subletting and leasing. It would have made sense for Airbnb to use Craigslist as its platform – especially while the team was trying to verify its business model. However, Airbnb deliberately chose not to for some very good reasons.
As co-founder Joe Gebbia noted,
"If you compare Airbnb to Craigslist, where thousands of people have been renting rooms long before us, you'll find that we have a pretty transparent process. Messaging stays on the site, transactions are handled through our payments system, and we have a full paper trail of every reservation. Craigslist is quite anonymous.
Our responsibility is in creating an environment where people feel comfortable disclosing as much information as possible about themselves, and their place. After that, it's up to you and your comfort level whether you want to book or not. You can choose to book with someone who has reviews earned form our reputation system, or not. To prevent fraud, travelers pay us, and we hold the money until after check in. On the host end, they can charge a refundable security deposit."
The idea for a more personalised, secure experience compared to what Craigslist offered made complete sense. However, Craigslist had a huge amount of both renters and people seeking accommodation which Airbnb wanted to capitalise on.
At the time Craigslist did not possess an API that allowed for information to be pulled into or out of their system. So Airbnb created an application that allowed renters to post their information on the Airbnb platform after it was then automatically uploaded to Craigslist.
Let's see how Airbnb helped hosts to attract more guests and how they  recruited more hosts from Craigslist.
Leveraging Craigslist to get more guests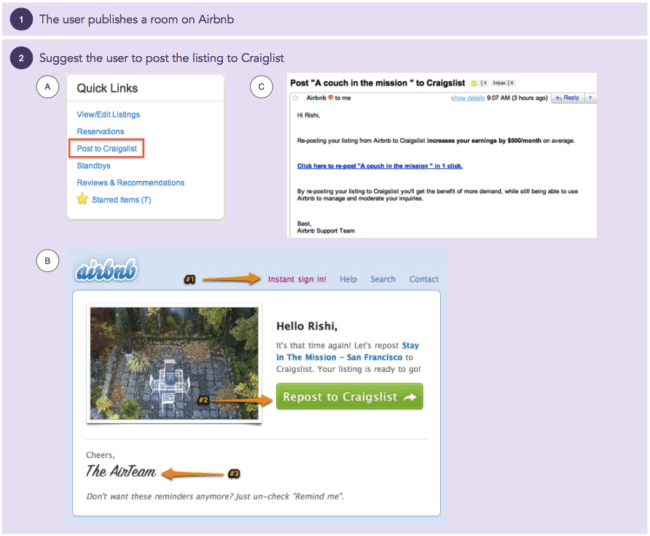 Once the host published the room on Airbnb a quick link appeared with a suggestion to repost the listing on Craigslist (Screenshot A shows the first version released in 2010). As mentioned earlier, back then, Craigslist was already very popular and used by many sub-letters.
Screenshots B and C show how the reposting process evolved to get more hosts to use it. As marketing strategist, Rishi Shah has mentioned, the improved versions included a stronger call to action, stronger branding,  and instant sign-in making it even easier for hosts to re-post their listing.
The screenshot below shows what hosts saw when they clicked on "Repost to Craigslist". Let's break down the process: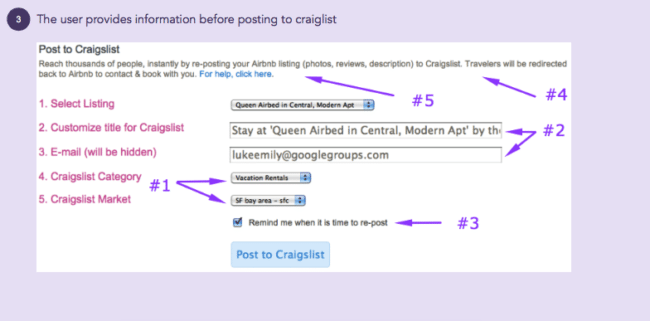 #1: Airbnb needed to scrape  information from Craigslist to successfully populate the two drop-down lists ("Craigslist Category" and "Craigslist Market" shown above) with the right values, before posting the listing to Craigslist.
#2: These two fields suggest that Airbnb was also able to send information to Craigslist to post the listing.
#3: Craigslist permits you to repost expired listings
This is of course quite relevant to Airbnb's business. Hosts tend to rent out their available space on a regular basis, so it's not surprising to see this feature. Now hosts:
can be notified when the Craigslist ad expires
can use the same listing published on Airbnb to repost on Craigslist.
have increased visibility on Craigslist. (Reposted ads appear at the top of lists)
#4: In this section Airbnb does a good job of highlighting the value proposition of reposting on Craigslist.  In general, it's important to respond to questions users may have before they complete the action requested, and describe the value of the action if it's not obvious.
When you buy a product online, don't you want to know when it will be delivered, or what the return policy is? Whenever users are asked to perform an action they will invariably have questions. It's your job to figure out those questions and preempt them. If you analyse this under the light of AIDA (Attention, Interest, Desire and Action), this small bit of text does a good job.
#5: The link to a help feature increases trust since users are reassured that if they need assistance there is an accessible route to it.
The Craigslist ad itself contained all the relevant information about the particular space as well as a booking link to the Airbnb site. This effectively gave Airbnb access to Craigslist's customers without having to execute any transactions on Craigslist. The superior photos and properties that were specific to Airbnb were often enough to encourage repeat customers to skip Craigslist entirely and just go straight to Airbnb.
The simplicity of the cross-listing application was crucial. One of the common mistakes entrepreneurs make is to try and optimize a feature before it has been properly validated.
While the back-end integration with Craigslist was complex, the user interface was simple. It gave the Airbnb team the opportunity to assess the impact of the repost feature on acquisition of new hosts.
It makes sense to monitor feature adoption rates and the value it creates on your platform before optimising it. That way, small fast iterations can help design the best solution. Airbnb did optimise their reposting application, but the key features would remain the same.
In addition to acquiring customers for their hosts from Craigslist, Airbnb also developed a tool that allowed them to reach out to property owners. They created a bot that would invite routine posters on Craigslist to list their property on Airbnb. This helped Airbnb to obtain additional properties that they could offer customers.
Although a bit unethical, Airbnb's tactics were very effective. Despite requiring a fairly complex back-end, the key to adoption of Airbnb's repost button was to make it simple for people to use on the front-end.
Found the information you're looking for? CobbleWeb uses a lean approach to design, test and build successful online marketplaces. Request a free consultation.
The Customer Experience: First, Last and Always
All companies have to build brand recognition. For some it will be easier than for others. Bland, neutral products struggle to create a buzz and grow through positive word of mouth. Bad experiences will generate a buzz, but for all the wrong reasons, and damage your brand reputation. A strong brand provides a unique experience that generates positive feedback.
Airbnb was indeed a novel experience for many users, especially since the sharing economy was not a well-known phenomenon when the company got started. This led to people who used Airbnb for the first time, talking about their experience with family and friends. The big question was whether they had good or bad things to say.
Airbnb's viral nature was a double-edged sword, with increased pressure to make sure each customer had a great experience. While legacy hotel chains could survive the occasional negative review, Airbnb had no track record, making every failure have an oversized impact.
Airbnb therefore committed itself from its inception to providing the best possible experiences. The company built a positive reputation over time, by not trying to do too much, too fast. As Steve Jobs once said,
"Innovation comes from saying no to 1,000 things to make sure we don't get on the wrong track or try to do too much."
Airbnb's vision of providing quality experiences provided direction for the company, but at the same time they also made sure that it did not result in a site too complex and difficult to manage. They kept their product simple and expectations low to ensure consistent positive experiences.
Over time, Airbnb developed new versions of the platform with additional features, such as professional photography for the properties, interactive maps, and cross-listings on Craigslist. As Duke University Economics Professor Mike Munger commented,
"The photos in particular made the locations seem prestigious, compared to blurry photos on other sites. It's these tiny differences that lead to cascades."
By starting out small and constantly iterating new versions that provided better outcomes for users, Airbnb was able to protect and grow its fragile new customer base. By continuously meeting or exceeding expectations the company gradually built a strong reputation. It is a lesson that all new businesses should take to heart.
Connections through Friends
The last big hurdle Airbnb had to overcome was to build brand recognition in the market. They had an optimised platform populated with host properties and a plan. Now they just needed to make it happen.
Word of mouth was going to be a big part of their strategy as it played to the company's strengths.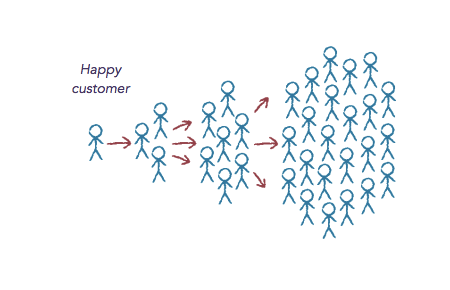 They had a naturally "sticky" story because the Airbnb experience was so novel compared to the status quo. There was also a focus on developing exceptional experiences for every customer. These points have been discussed in the previous section, but it is important to highlight how crucial that was from a marketing perspective. As Seth Godin once wrote,
"Many startups are obsessed with building virality and referral/affiliate programs into their product from day one. While referral programs can be very effective in spreading the word about your product, you need to have a product worth spreading first. Build a remark-able product."
Airbnb embraced that strategy from day one. But they also wanted to build a referral program to enhance their strategy.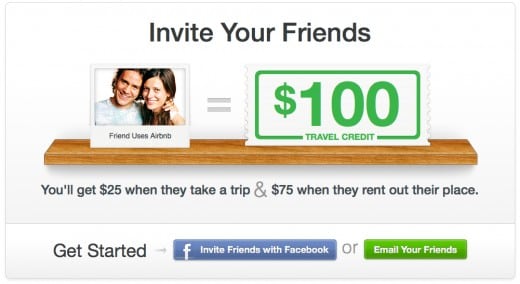 The company started incentivising users by offering them $25 in travel credits if someone they referred rented an Airbnb property, and $75 if the referred person listed his or her property on the site. Referrers secured their incentives by sending their friend or contact a unique referral code.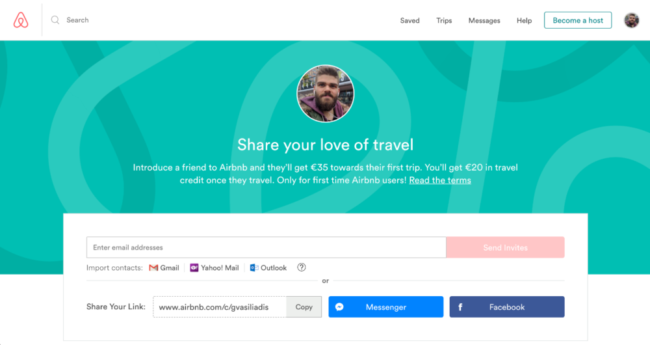 With the infrastructure established, all that remained was optimising the referral system. First, Airbnb evaluated the type of growth they could get based on their first experiments. They had already built dashboards to evaluate how users interacted with the referral feature, measuring its impact from day one.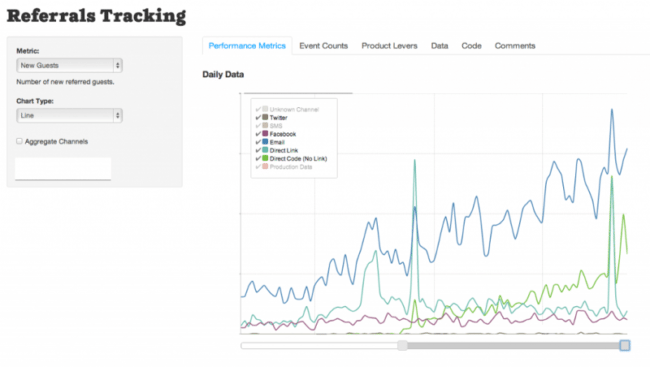 Jason Bosinoff, Director of Engineering at Airbnb describes the metrics they needed to improve upon in his post Hacking Word-of-Mouth: Making Referrals Work for Airbnb. They included:
Increasing the number of invites per referrer by offering participants the option of importing their email and cell phone address books
Increasing the share of active users sending a referral invite by improving the discoverability of the referral feature
Increasing conversions by allowing referrers to send reminders to their invited friends
Increasing the conversion rate for referral emails entailed finding the right moment to send a referral email and how to increase discoverability.
Airbnb also needed to figure out how to make the referral emails more personal. Studies have shown that 92 percent of people find personal recommendations from friends more compelling than advertising. Making referral emails more personal would only improve on those odds.
With these points in mind Airbnb started A/B testing their emails. They conducted a myriad of tests, on everything from when to send the emails to how the email was phrased.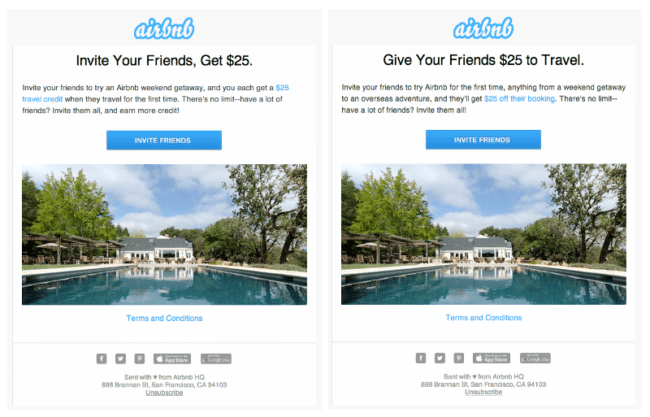 One test was about finding out how to communicate the value proposition of a referral. One email emphasised that the referrer could earn $25 for inviting a friend, appealing to their self-interest, while another version emphasised that referrer could share the $25, appealing to their altruism.
By conducting A/B testing, Airbnb were able to increase the conversion rate of their referral emails and thus their sales. In some markets, the referrals increased bookings by over 25%.
Airbnb's experience with referrals demonstrated the importance of testing everything when it comes to optimization. You never know which element will be crucial to your success. Things that look small right now might eventually become big game changers.
Revolution through Evolution
Today Airbnb is one of the dominant players in Silicon Valley, but they didn't get there by knowing what would happen every step of the way. Sometimes they were blindsided and other times they went through dry spells. Their success is due to perseverance and not necessarily going for short-term quick fixes. By doing the hard yards they learned how to build something unique and valuable.
They started with desperation; then moved forward with perspiration; and excelled through iteration. As an entrepreneur, to succeed like Airbnb, you must be prepared to embrace the same principles, or the only thing you will find is frustration.