General usage
OVHcloud offers a range of computing services, from private and public cloud infrastructure to dedicated servers and virtual private servers. Its dedicated servers can be 5 -10 times cheaper than AWS cloud servers. Their drawback is that they have limited hardware resources, e.g. processing power and storage space, and are difficult to scale. 
Popularity
OVHcloud is the joint largest provider of dedicated server hosting in the world: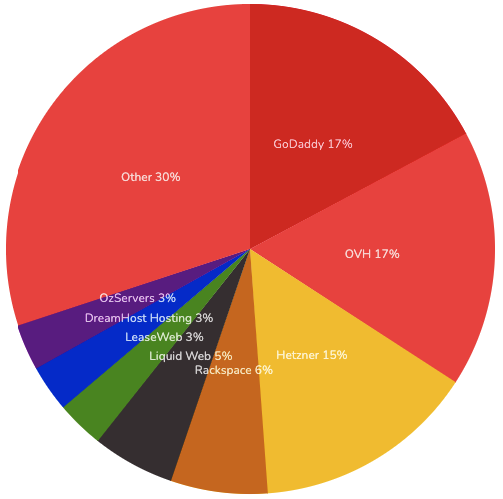 Source: Builtwith
Marketplace benefits
Talent, a global job marketplace, receives more than 70 million visitors per month. They needed a stable, scalable, secure infrastructure to support high data traffic. OVHcloud's Public Cloud infrastructure with dedicated servers and private network provided the required performance and data storage security. This helped them reduce cost by half while maintaining scalability.
CobbleWeb mainly uses OVHcloud's dedicated servers for clients who want to launch an MVP marketplace to test the market. Once product-market fit has been validated, we usually migrate the platform to a more scalable AWS infrastructure.
It's worth noting that despite differences in service offerings, all three of our recommended infrastructure service providers – AWS, DigitalOcean and OVHcloud – provide high levels of security and best practices.