General usage
Most applications need to notify their users about important events, such as order confirmations, receipts or password resets, even when the users are not logged onto the platform. The obvious solution is the email address with which users registered their accounts.
Mailchimp's transactional email service, formerly known as Mandrill, allows applications to send their users automated emails that are triggered by in-app events, like account registration. Key reasons to use Mailchimp for transactional email include:
It has high deliverability rates, which means emails don't land up in spam folders. This is possible due to Mailchimp's global server network, membership of industry organisations, ISP feedback loops and whitelists, abuse-detection technology and sender authentication.
It's fast. A million emails take on average 45 minutes to send, in part because Mailchimp circumvents ISP throttling by using hundreds of IP addresses.
Its flexible API can link to multiple databases (e.g. to extract user details) and can receive and process inbound emails (e.g. to get feedback requested from users).
Webhooks allow applications to receive real-time notifications of user actions, e.g. whether an email was opened, bounced or there was a spam complaint.
Analytics reports can be customised with tags and metadata for specific metrics, such as customer segments.
Personalised transactional emails offer an opportunity to increase user engagement. A personalised reminder may, for example, be more effective than a utilitarian system message to reduce cart abandonment.
Mailchimp's transactional service integrates smoothly with its template ecosystem, which makes it easy for application owners to test email copy, layout and design without the help of developers.
Popularity
Mandrill is used for transactional mail by 18% of the million most popular sites.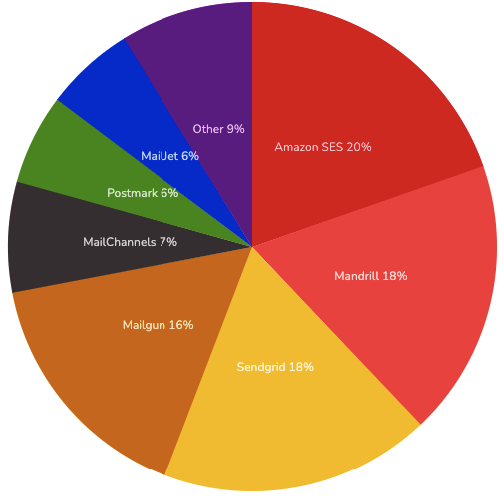 Source: Builtwith
Marketplace benefits
Since a marketplace's main goal is to connect buyers and sellers, transactional emails play an important role in the activation, engagement and conversion of users. 
Mailchimp's transactional email solution offers the flexibility (via webhooks and API), easy implementation (via ready-made templates), analytics (via customisable reports) and scalability (via its global server network and a pay-as-you-go cost structure) that marketplaces need.
Its manageability also makes it a winner. Mailchimp helps our client, Affordable Art Fair, to manage more than forty transactional email types. It allows their administrators to easily manage the parameters (e.g. buyer location), triggers, as well as the content and layout of templates. The system is also able to pull data from multiple external sources such as customer databases.