As advocates for the positive impact that online marketplaces can have on society at large, the CobbleWeb team love to participate in projects that marry social entrepreneurship with the platform economy. We were afforded such an opportunity with the recent launch of the IHSSconnect healthcare marketplace.
Careconnect, a California-based healthcare company, approached CobbleWeb to build a bespoke peer-to-peer marketplace that connects in-home care providers with impaired individuals. The main goal was to make it easier for those in need of in-home assistance to find the right type of caregivers within their location. Additionally, caregivers would be able to better advertise their services. 
A number of key features were implemented to support both the IHSSconnect value proposition and business case. 
Real-time messaging
Online consumers, including marketplace users, now demand immediacy in on-platform communication. According to Forrester, "53% of US online adults are likely to abandon their online purchase if they can't find a quick answer to their question".
This has meant a shift away from delayed email/inbox messages to instantaneous WhatsApp-style messaging. In line with this trend, CobbleWeb offers its clients custom messaging systems that support their specific marketplace user flows. Our messaging solutions cater for real-time user-to-user messaging, chat rooms, as well as system messages and automatic notifications.
IHSSconnect required an asynchronous instant messaging system that also allows users to access group chats. In addition, the client's external systems (e.g. CRMs such as Salesforce or Hubspot) had to be able to access and re-publish messages.  
The IHSSconnect messaging system includes auto-generated messages that notify care recipients when there is a new care provider application. These auto-generated messages are fully customisable and can contain multi-media such as images and videos (aka rich messaging).
Users can also share different types of files such as spreadsheets, PDFs, images, as well as specialised formats such as DWG files for AutoCAD and PSD files for Adobe Photoshop.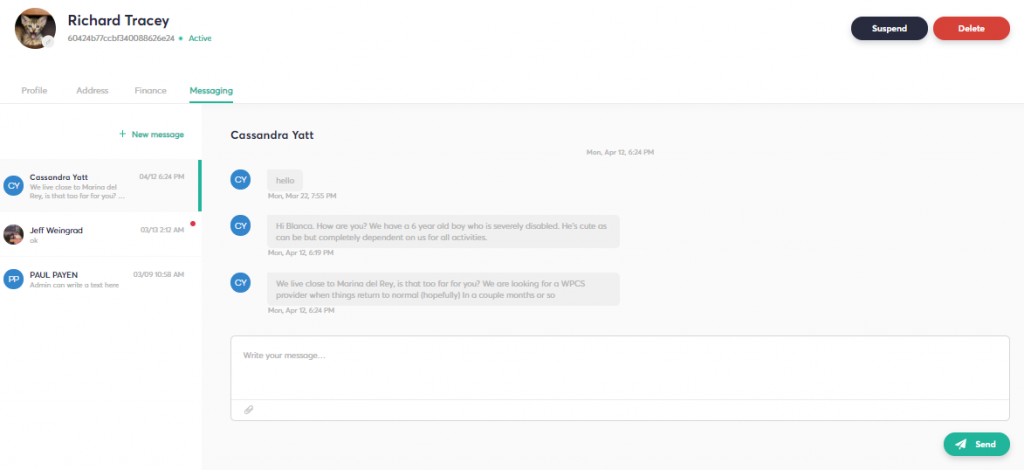 Subscription plans
User subscription plans (also known as SaaS) are a popular and powerful way to drive recurring revenue for your marketplace. They can be challenging to implement though, due to the many user scenarios that have to be considered while still ensuring a smooth customer experience.
We managed exactly that for IHSSconnect. Their platform offers Basic and Premium tiers with monthly or yearly payment options. Scenarios that had to be taken into account include:
Enabling features such "job search" only if the subscription is active
Allowing users to upgrade/downgrade their subscription tiers, taking into account pro-rata usage
Allowing cancellation of subscriptions without loss of access if the current subscription period has not ended
Allowing the marketplace administrator to change subscription plans without affecting existing subscriptions

Job/provider search
IHSSconnect required a two-sided search feature that allows care recipients to publish and pause job requests, as well as search for care providers. In turn, care providers had to be able to search jobs via various criteria such as location, contract type, schedule, preferences and specialisations.
This important central feature requires the marriage of a seamless user interface with complex under-the-hood technical flows:
Faster, more granular search results are supported by faceted navigation in the form of dropdown filters that allow simultaneous selection of multiple criteria. 
A tagging system for specialised services permits even further refinement of the job and search criteria.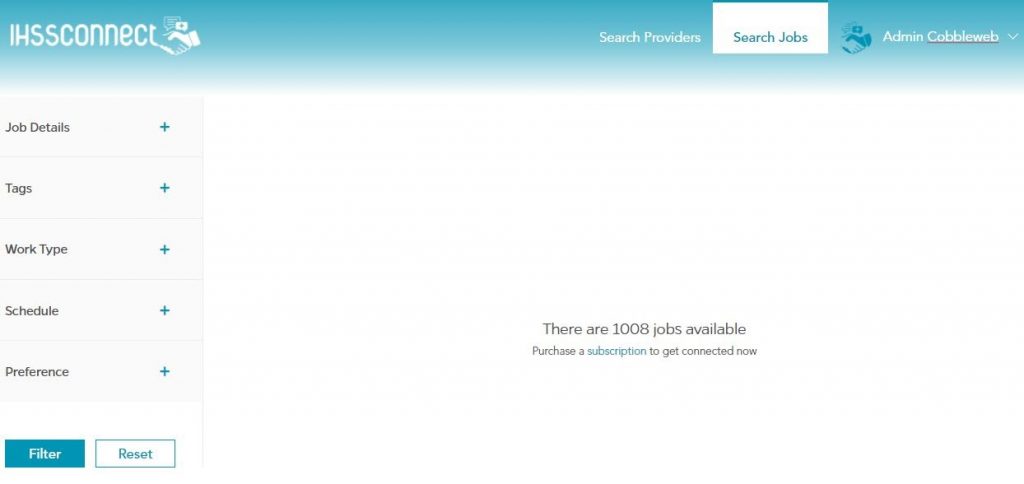 Custom admin panel
The administrative interface is your marketplace platform's mission control. From there you should be able to vet, manage and support your users and the products or services they sell. 
The IHSSconnect admin dashboard had to provide access to a job list screen that could be searched by type of care, duration required, live status, time schedule, and specialised tags such as tracheal tube management. 
A user screen was also built to access user contact and location details, subscription status, and in the case of care providers, the services they offer, languages they speak, their experience, transporation options and availability.
Both the above screens use faceted dropdown filters similar to the user-facing job search feature. A third screen allows administrators to set subscription fees by month, year, tier level and user type.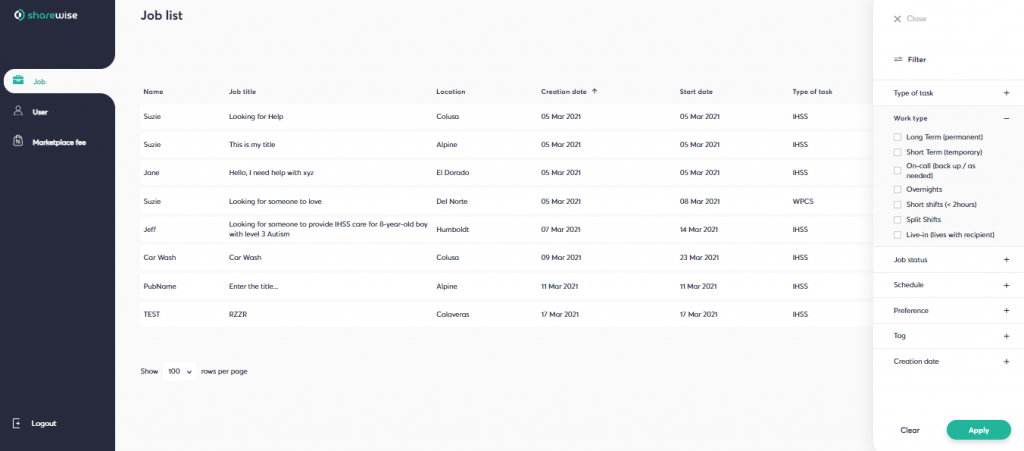 ---
Have a great online marketplace idea, but don't know how to make it a successful reality? CobbleWeb can help. Get in touch with the experts in custom marketplace development.